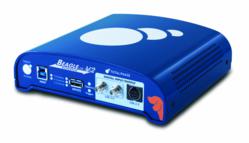 Now there is no reason to delay buying a USB 2.0 analyser knowing it can be simply upgraded to Support USB 3.0 when you are ready.
CORWEN, UK (PRWEB UK) 29 September 2012
The enhanced Total Phase Beagle USB 5000 v2 Analysers range replaces the award winning Beagle USB 5000 which is well known for its real-time analysis of USB 3.0 systems.
A new USB 2.0 version of the Beagle USB 5000 v2 is now available which extends the enhanced features previously only available for USB 3.0 analysis to USB 2.0 monitoring. Features include the unique USB 3.0 downlink of captured data to the host PC and the option of an advanced multi-level state machine to more accurately track down problem packets. Currently the Beagle USB 5000 v2 is the only USB analyser on the market able to stream and analyse data in real-time up to 5GB/s. This means that data can be captured at full speed over extended periods of time without the expense of a large capture buffer in the analyser.
The Beagle USB 5000 v2 is now available in three versions, each model upgradeable to the next version. This means that the user can add capability as and when he needs to without his initial analyser becoming obsolete.
Beagle USB 5000 v2 USB 2.0
This version supports USB 2.0, v1.0 and v1.1. It is an enhanced version of the existing Beagle USB 480 analyser and can be upgraded to a SuperSpeed Standard or Ultimate Analyser.
Beagle USB 5000 v2 SuperSpeed Standard
The standard version supports USB 3.0, USB 2.0, USB v1.0 and USB v1.1
Beagle USB 5000 v2 SuperSpeed Ultimate
Includes all the features of the Standard version plus USB 3.0 Downlink, an Advanced Multi-Level State Machine to assist with Triggering and Filtering, Simultaneous USB 2.0 and USB 3.0 Capture, Multi-analyser synchronisation and a massive 4GB Capture Buffer.
Customers of existing Total Phase Beagle USB 12 USB v1.0 and USB v1.1 Protocol Analyser, Beagle USB 480 and Beagle USB 5000 analysers are currently being offered generous trade-in deals from Total Phase to the new models.
About The Debug Store
The Debug Store distributes Total Phase CAN, I2C, SPI and USB Analysers and Interfaces in the UK, Ireland and Europe. It specialises in supplying embedded systems development tools and electronic test equipment to electronic engineers in the UK and throughout Europe and is known as "The Electronic Engineers' Tool Store". The company was founded and is run by John Legg, an experienced embedded hardware and software engineer whose philosophy has always been to introduce innovative solutions to the embedded systems developer and to back them with both pre and post sales advice and support.
About Total Phase
Total Phase is based in California and manufactures user-friendly, powerful and affordable USB, CAN, I2C and SPI development tools for embedded systems engineers. Total Phase tools combine the best-of-breed features, Windows, Linux and Mac OS X support, a royalty-free API, free software updates and free lifetime support, making them perfect additions to any engineer's toolbox.