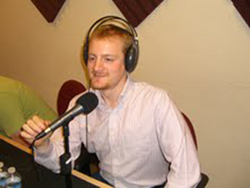 You have to base your expertise on core marketing values and research.
Atlanta, GA (PRWEB) September 29, 2012
On September 27, 2012, Business RadioX™'s Atlanta Business Radio welcomed Davin Green with Green Machine, Inc. Co-hosts Lee Kantor and Stone Payton spoke with Green about internet marketing opportunities in the Atlanta area.
Davin Green, for whom Green Machine, Inc. is named, originally began his company to support sustainability initiatives. At less than one year old, his company has grown to providing websites, apps and marketing strategy for clients.
Green's unique approach is to provide "Creativity and Transparency" to his clients. The process counts on strategy and listening to the client's needs. In a market such as Atlanta, the #3 interactive city in the world, this is how Green distinguishes his services. Atlanta has become a hot-bed for start-ups and web development agencies, many coming out of institutions such as Georgia Tech, Savannah College of Art and Design (SCAD) and The Art Institute.
According to Green, "You have to base your expertise on core marketing values and research." Green's focus also continues to be on supporting sustainability and non-profits in Atlanta.
Green has extensive experience in Marketing, Information Technology, and Design. He has spent the last ten years following the trends of digital strategy and has established himself as an expert in online marketing, design of digital products, and internet strategy with emphasis on engagement and conversions. Green's role at Green Machine, Inc. is to extend brand awareness, ensure quality delivery of services, and manage the execution of strategies and projects both internally and for their clients.
To hear more about Green Machine, Inc., please tune in at Atlanta Business Radio.
About Stone Payton:
For over 24 years, Stone Payton has been helping organizations and the people who lead them drive their business strategies more effectively. He is a Managing Partner at Business RadioX™ and the author of SPEED®: Never Fry Bacon In The Nude: And Other Lessons From The Quick & The Dead, and has dedicated his entire career to helping others produce better results in less time.
About Lee Kantor:
Lee Kantor has been involved in Internet radio, podcasting and blogging since he started the Dr. Fitness and the Fat Guy show in 2005. Since then, Lee has interviewed well over 1000 entrepreneurs, business owners, authors and celebrities on a variety of shows and at live events. In addition to his hosting duties, Lee is a Managing Partner at Business RadioX™ and is committed to helping entrepreneurs and business owners in Atlanta learn how to use radio to dramatically grow their businesses.
About Atlanta Business Radio:
http://www.atlantabusinessradio.businessradiox.com
Each week, from the Business RadioX™ studio in Sandy Springs, Lee Kantor and Stone Payton interview Atlanta, Georgia's top businessmen and businesswomen to learn what makes them the best at what they do.
About Business RadioX™:
Business RadioX™ provides a turnkey solution for business owners who want to leverage the power of internet radio to meet their best prospects, establish credibility for their organization and heighten the placement of their brand in search engines rankings. With a professional venue and a proven formula, Business RadioX™ helps hosts podcast their shows and create a regular stream of dynamic content to share with their prospects and feed the search engines every week. Programs are recorded and streamed live to the internet from our studios in the greater Atlanta area. For more information or to hear a live show, visit: http://www.businessradiox.com.