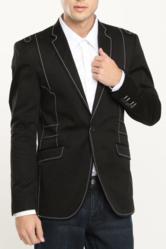 Basta (enough) drab colors!
(PRWEB) September 30, 2012
Styles of Europe show themselves at FashionMensWear.com. It would be almost impossible to miss the elegance of the Milanese in autumn. Men dressed in monochromatic colored cotton trousers and leather driving shoes. In autumn the Milanese let go of their bourgeois uptightness. They also demonstrate the deeply held native belief that just because the world might end, there is no excuse for looking less than one's best. Menswear picks up the pace, along with shirts for men, mens shoes and all fashion mens wear after Giovanni Marquez returns from the European Fashion Shows of Milan and London. Sending an e-mail to his staff he reported that he was bringing back to Florida; beautiful Italian men's footwear, handsome men's two and three piece suits, a tremendous selection of tuxedos, shirt and tie combinations that add to any wardrobe, fashion forward shirts that will go with any hip pants or jeans and a unique selection of accessories. In a dispatch from Spain he recounted the fabulous shoe style at the MICAM Shoe Fair in Milan and predicted a remarkable fall and winter season for his customers back home.
"Basta (enough) drab colors!" said Lavinia Biagiotti, who runs the Biagiotti label."
"We need to come up with some anti-crisis vibes, and why not start with what we wear?" Marquez agreed as he flew to London.
Twice a year, the banks of the Thames bustle with fashion industry crowds as they mill to and from London's Somerset House - now the central hub for London fashion week. Promoting Great Britain's fashion talent to the world, London Fashion Week brings a massive program of runway shows, presentations and parties to the city with autumn & winter collections.
FSBmens.com is the premier boutique offering the very best of Italian and European menswear styles. With an ever-growing clientele from around the world their sales increase every year as new customers find them through Google Search, Facebook, Twitter and the variety of social networks to which they subscribe.
According to Marquez, "It is easier to offer high fashion and fill world-wide orders than ever before." They now ship to more than 150 countries and their customer profile has expanded beyond what they expected.
Their international sales coordinator Grace Marquez and her staff are busy from morning till night working with customers to fill their demand for men's wear and accessories.