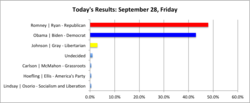 PRElection results show Romney 49, Obama 42.
Alpharetta, GA (PRWEB) September 28, 2012
Today's PRElection App results as of September 28 show Romney 49, Obama 42. Libertarian candidate Gary Johnson has 3% of the vote. All other candidates plus undecided voters make up the balance.
PRElection is a free app available in the Apple app store that allows voters to pre-vote for the candidate of their choice. Only one vote per device is allowed, but the voter can change their vote. PRElection keeps track of demographics supplied by the voter across geographic, age, educational, ethnic, income and other categories. PRElection even tracks registered and likely voters.
PRElection is not a poll. The PREsults are a continuous tally of the current vote of every PRElection App voter. As the number of app users increases, PRElection expects their results to accurately predict the results of the November 6th election.
View or download PRElection in the app store: http://itunes.apple.com/us/app/prelection/id559954385?Is=1&mt=8
More information is available on the PRElection App website website: http://www.PRElectionApp.com, or by calling Curt Renshaw at 404.791.6783.