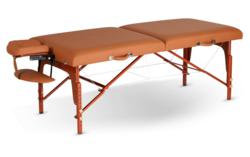 When we see opportunities to improve a product at a fair cost to us, you can be sure that we will make that improvement.
Chicago, Illinois (PRWEB) September 30, 2012
The Masterpiece Deluxe BodyChoice has gotten a little curvier recently. Since first making its debut a few years ago on BestMassage.com, the luxury massage table has had standard, non-rounded corners. Two weeks ago the announcement was made that the next shipment of the massage tables would have rounded corners, a feature that many bodyworkers and therapists consider desirable. Rounded corners on a massage table are purported to save space and allow therapists to move around the table with more ease.
According to Amona Buechler, owner of BestMassage, changing the design of the Masterpiece Deluxe was a logical step. She explained that the Masterpiece Deluxe is considered one of BestMassage's luxury portable massage tables. A luxury portable massage table usually comes padded with a layer of memory foam instead of just high-density, small-cell foam, has an ergonomic headrest and memory foam face pillow instead of a standard headrest and face pillow, has a shiatsu release function, includes a deluxe carrying case rather than a standard carrying case, include a sheet set and/or face pillow cover set, and has rounded corners. Other portable massage tables that are considered the highest-tiered massage tables include the Flattop Pro BodyChoice, the Oval Deluxe BodyChoice, and the Multi-Purpose Deluxe BodyChoice. With the exception of the Multi-Purpose Deluxe BodyChoice, the other luxury brand massage tables have rounded corners.
"We are constantly looking to improve our massage products," explains Buechler. "When we see opportunities to improve a product at a fair cost to us, you can be sure that we will make that improvement."
This is not the first time that BestMassage has come out with changes to its existing inventory of massage tables. Within the last couple years, it has made the push to replace standard PVC upholstery on its portable massage with PU leather, which is claimed to be more environmentally friendly, or at least medical-grade PVC, which is considered a higher-quality PVC. Other instances of changes to massage tables include switching the production of the tables to manufacturers that use better-quality materials at a lower price and well as making design changes to the massage tables based on customer feedback.
The Masterpiece Deluxe BodyChoice's rounded corners are just the latest improvements to the BestMassage massage table family. The massage table retails for $389 but is currently available at BestMassage.com for $239.
About BestMassage
BestMassage is proud to be a BBB (Better Business Bureau) accredited organization with a BBB Rating of A+. Having over 10 years of experience and knowledge behind us, we are committed to offering massage therapists and those who care about health and well-being a complete line of high-quality massage supplies and products at the best prices possible with exceptional, friendly service, and fast shipment. Detailed information on the company can be obtained by visiting http://www.bestmassage.com/