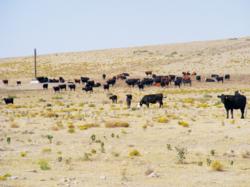 Our seller recognizes the value of using an accelerated method of marketing – in other words, an auction – to sell their property
KANSAS CITY, Mo. (PRWEB) September 29, 2012
Qualified buyers will have the opportunity to purchase 1,942± acres of land in Idalia, Colo., at auction prices. The acreage will be sold in nine separate tracts or any combination of the tracts.
Conducted by Virgil George, employing broker with United Country – Rocking X Land Company, LTD, of Burlington, Colo., the live auction will take place at the Burlington Community Center at 340 S. 14th Street. The auction will take place at 9:30 a.m.
These parcels of land are located on the C-Heart Ranch, located five miles south of Idalia. The nine tracts range from roughly 13 to 1,137 acres in size. Each offers various features including irrigated farmland, hunting grounds, areas to raise cattle, grassland, woods, rivers, creeks, wells, windmills, pastureland, two three-bedroom homes, outbuildings and 100 percent of owned mineral rights.
"Our seller recognizes the value of using an accelerated method of marketing – in other words, an auction – to sell their property," said Scott White, associate broker with United Country – Rocking X Land Company, LTD. "What does this mean for buyers? It means they have the opportunity to purchase part or all of a great Colorado acreage at an affordable price. Today's market conditions and the auction format allow sellers and buyers to come to a meeting of the minds quickly with a competitively achieved fair market value. In times like these, an auction is the best way to establish what real market value is."
Detailed information about the property for sale, as well as details about the auctions, can be found online at http://www.C-HeartRanchAuction.com, by emailing rxl(at)centurytelnet.com or by calling 719-346-5420.
About United Country
United Country Real Estate is the largest fully integrated network of conventional and auction real estate professionals in the United States and Latin America. The company has been an innovator in real estate marketing since 1925. United Country supports nearly 550 offices across the U.S., Costa Rica, Panama and resort areas of Mexico, with a unique, comprehensive marketing program that includes one of the largest portfolios of property marketing websites (more than 3,500 separate sites and traffic of approximately 3 million visitors per month), multiple United Country real estate catalogs with national distribution , an extensive buyer database and national advertising of local properties that reaches more than 90 million homes per week. United Country has recently been recognized by Franchise Business Review, AllBusiness.com, The Land Report, Entrepreneur and The Wall Street Journal as one of the top U.S. real estate companies.