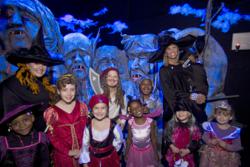 Morph into a witch, vampire or werewolf as you make your own monster face with fun games and activities.
Indianapolis, IN (PRWEB) September 29, 2012
Fly into a whimsical world of pointy hats and spooky laughs at what may be the oldest seasonal haunted houses in the nation! The 49th Annual Children's Museum Guild features a Wicked Workshop this year in which visitors will travel to see Winny the Witch and her Witchkins cranking out hats and brooms in the Broom Room, carving Jack-O-Lanterns in the Gorey Greenhouse and creating Halloween candy in the Sugar Shock! Take a trip through the Bone Zone and witness ghosts coming into "being" at the Ghost Post.
The Children's Museum Guild provides two versions of the Haunted House. "IPL Lights-On Hours" are offered for families with younger children who scare easily while those looking for a fright can choose to visit during "Defender Direct's Frightening Hours." To view the list of lights-on and frightening hours along with cost of admission, please visit: http://www.childrensmuseum.org/hauntedhouse.
Presented by PNC Bank, each October the Guild hosts their annual fundraiser for The Children's Museum of Indianapolis, which brought in more than $500,000 last year. This year's event will open to the public on Oct. 13 and will run through Halloween afternoon (closed on Mondays).
This year, the Museum Guild will offer a new event for the entire family – the inaugural Black Hat Bash, a family-friendly Halloween party full of frightful fun! Presented by Ron and Suzanne Mencias, the Black Hat Bash is an all-ages fundraiser for The Children's Museum Fund. The ticketed event will be held on Friday, Oct. 12, from 6-9:30 p.m. Guests can check out food stations from "fa-boo-lous" area restaurants and sample "spook-tacular" spirits and beverages. Live entertainment, a costume parade and ghostly games and activities will complete the night's fun.
In addition to a tour through the Haunted House, visitors looking to expand their Halloween experience can sign up for a Friendly Feast with the Witches or a LIVE bat encounter.
Friendly Feast with the Witches
Enjoy a breakfast, lunch, or dinner "boo-fet!" This event features Halloween entertainment, a tour of Wicked Workshop during IPL's Lights-On Hours (for children who scare easily), and lots of happy, friendly witches! Tickets are required ($15 per person) and space is limited.

Saturday, Oct. 20: 9 a.m. breakfast feast; 11:30 a.m. lunch feast
Sunday, Oct. 21: Noon lunch feast
Tuesday, Oct. 23: 6 p.m. dinner feast
Thursday, Oct. 25: 11:30 a.m. lunch feast
Saturday, Oct. 27: 9 a.m. breakfast feast; 11:30 a.m. lunch feast
Sunday, Oct. 28: 12noon lunch feast
Tuesday, Oct. 30: 6 p.m. Dinner Feast
LIVE Bat Encounter
Step into the world of bats and meet them face-to-face! Encounter a variety of bats from around the world, observe their behaviors, and hear their high-pitched echolocation with a bat detector. This show features live rescued bats. 40 minutes. Recommended for families with children ages 4 and up.

Thursday and Friday, October 11 & 12: 1 and 3 p.m.
Saturday, October 13: 11 a.m., 1 and 3 p.m.
My Monster Face
Trick or treat a friend to a picture of yourself while making your own monster face or check out other fun games and activities on the museum's website http://www.childrensmuseum.org/hauntedhouse.
Organized by The Children's Museum Guild, Wicked Workshop is presented by PNC Bank. Tickets for Wicked Workshop and all other Halloween special events can be purchased online at childrensmuseum.org or by calling 800-820-6214.
Magical discounted hotel packages are available for those who would like to extend their Halloween or fall break vacation. http://www.childrensmuseum.org/accommodations
The Children's Museum of Indianapolis is a nonprofit institution committed to creating extraordinary family learning experiences that have the power to transform the lives of children and families across the arts, sciences, and humanities. For more information about The Children's Museum, visit http://www.childrensmuseum.org, follow us on Twitter @TCMIndy, Facebook.com/childrensmuseum and YouTube.