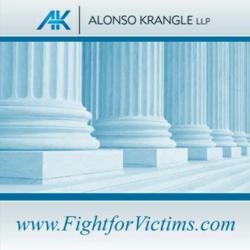 Melville, NY (PRWEB) September 30, 2012
Alonso Krangle LLP, a national law firm focused on harmful drugs, defective medical devices, clergy abuse, nursing home abuse, employee rights and child product safety, is today warning parents of serious injury risks associated with at-home recreational trampolines. The law firm concurs with the recent policy statement from the American Academy of Pediatrics (AAP), which held that at-home recreational trampolines are too dangerous for children to use. According to the AAP's statement, which is published in the September 24th issue of the journal, Pediatrics, trampoline injuries to children continue to be a significant problem, despite attempts by various medical group to discourage their use, and the addition of warning labels and safety features on trampolines sold for at-home or on-the-playground use.
Source: http://pediatrics.aappublications.org/content/early/2012/09/19/peds.2012-2082
http://pediatrics.aappublications.org/content/early/2012/09/19/peds.2012-2082
In 2009, there were 100,000 injuries associated with recreation trampoline use, according to the AAP. Data from the National Electronic Injury Surveillance System (NEISS) indicates that falls from a trampoline accounted for 37 to 39 percent of all injuries, some with catastrophic consequences. In fact, one study cited in the AAP statement found that 1 in 200 trampoline injuries resulted in some sort of permanent neurologic damage.
The NEISS data also revealed that the youngest children were most likely to sustain serious injuries in trampoline accidents, with those younger than 6 years old accounting for 22 to 37 percent of trampoline-related emergency room visits. The NEISS data also indicated that 29 percent of injuries in kids ages 6 to 17 were fractures or dislocations, as compared with 48 percent in kids 5 years and younger, the AAP said. According to the statement, sprains, strains and contusions accounted for the most common injuries among all age groups. Most – 75 percent – trampoline injuries occur when multiple people are jumping on the apparatus. In such accidents, the smaller child was 14 times as likely as a larger one to be injured, the AAP said.
In recent years, companies have sold netting and other perimeter enclosures for trampolines. But according to the AAP researchers, there is no evidence the safety features reduce injury risk. In cases were some children have opted to climb the netting, the risk for injury increased. Adult supervision also does not appear to make trampolines any safer for kids. According to the AAP, multiple studies show that up to one-half of trampoline injuries occur when an adult is nearby.
Alonso Krangle LLP agrees with the AAP that use of recreational trampolines should be avoided entirely. Parents should investigate structured sports programs that offer appropriate supervision, coaching and safety measures if their child wishes to continue to using a trampoline.
Alonso Krangle LLP offers free lawsuit evaluations to any family whose child was injured because of a trampoline or other dangerous product To discuss filing a personal injury lawsuit on behalf of your child with one of the experienced and compassionate product liability lawyers at Alonso Krangle LLP, please contact us at 1-800-403-6191 or visit our website, FightForVictims.com.
About Alonso Krangle LLP
Andres Alonso and David Krangle, attorneys with almost 40 years of collective legal experience, have focused their law practice on the handling of significant product liability cases, defective drug and medical device litigation, construction site accidents, nursing home abuse, medical negligence, qui tam/whistleblower actions and consumer fraud cases. A national law firm representing injured victims throughout the U.S., Alonso Krangle LLP is headquartered in Long Island, New York, with offices in New York City and New Jersey.
For more information about Alonso Krangle or to join the fight and be a part of our team, please contact us at 1-800-403-6191 or visit our website, FightForVictims.com.
Contact:
Alonso Krangle LLP
445 Broad Hollow Road
Suite 205
Melville, New York 11747
Toll-FREE 1-800-403-6191
Tel: 516-350-5555
Fax: 516-350-5554