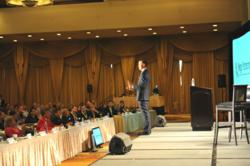 Los Angeles, CA (PRWEB) September 30, 2012
The JT Foxx Organization is proud to announce that Cris Van Cleemput, esteemed European business guru, will be among the celebrity and thought leaders presenting at the upcoming Mega Partnering VI conference this fall.
Cris Van Cleemput is widely known as the European business guru, having trained and coached both corporations and individuals from all around the world. Born and raised in Belgium, it is his "throw-the-box-away mentality" and strategic thinking abilities that have made him a sought out speaker and entrepreneur to learn from and do business with.
With his new initiatives as the "Intrapreneur Corporation", "Earn your Worth and Get Paid you Deserve" and the successful brand "My CEO Zone", Cris is making waves like no other and proving that disrupting the normal is the only way to thrive and succeed in today's every changing market place.
Mega Partnering VI will be held in Los Angeles from November 29 - December 3, 2012.
About Mega Partnering
Mega Partnering is an independent international organization JT Foxx created after watching a 60 Minutes episode about Davos, applying, and getting turned down when he tried to start his own business. Not willing to take rejection, JT Foxx decided to start his own opportunities for small businesses and called it "MegaPartnering."
The conference has since grown to include small entrepreneurs from all over the world, and raises money for charitable initiatives, keeping with the philosophy, "Learn, Earn, Return."
Mega Partnering attendees have included Apple co-founder Steve Wozniak, former NYC mayor Rudy Giuliani, Gene Simmons, Kevin Harrington, former Prime Minister Brian Mulroney, George Ross, Wayne Allyn Root, Stedman Graham and Bret Michaels. Mega Partnering is committed to improving the state of the business world by engaging small businesses, real estate investors, internet marketers, and other leaders of society to shape partnerships and life-long relations.