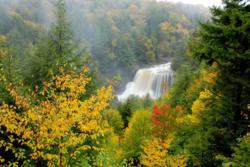 Leaves at the highest elevations of West Virginia are starting to show their colors and are expected to peak within the next week to 10 days.
CHARLESTON, W.Va. (PRWEB) September 29, 2012
Plan your trip to coincide with one of the many fair and festivals taking place all across the state. October events include the West Virginia Pumpkin Festival in Milton, the Apple Butter Festival in Salem and the Black Walnut Festival in Spencer. A listing of events, as well as a fall color map and suggested driving tours, are available online.
Leaves at the highest elevations of West Virginia are starting to show their colors and are expected to peak within the next week to 10 days, according to Division of Forestry officials. Regional Forester Tom Cover reports excellent color at Spruce Knob, Harman, the headwaters of the Greenbrier River, Cheat Mountain, Point Mountain, Kumbrabow State Forest, Kennison Mountain and Cold Knob.
"The areas where we see early color are those of higher elevation with a mix of northern hardwoods, including maple, gum, ash, beech and birch," Cover said. "Other elevations where oaks are more prevalent will peak in mid- to late October."
Cover, who oversees forestry operations in 16 eastern West Virginia counties, recommends visiting Elkins for the Mountain State Forest Festival Sept. 29 through Oct. 7. Foliage in Randolph County is reported to be 70 percent peak, and recommended drives are Dry Fork Road from Harman to the Sinks of Gandy and Whitmer Road to Spruce Knob. In Webster County, where foliage also is reported to be at 70 percent peak, Cover recommends driving State Route 15 from Webster Springs to Valley Head. The Highland Scenic Highway/State Route 150 in Pocahontas County has some good color as does County Route 17 from Thornwood to U.S. Route 33 at Wymer.
Foliage in the state's 20-county northern region, which includes the Northern and Eastern Panhandles, is not as advanced, but there is color to be seen there. State foresters offer several recommendations, including drives, hikes and events for weekend fun.
A drive along State Routes 28/55 to Dolly Sods Wilderness in the Monongahela National Forest is reported to be beautiful, with a variety of red, yellow and orange leaves. U.S. Route 50 to Mt. Storm is also a recommended drive in Grant County. Foliage in Grant County varies from 40 percent peak at higher elevations to 20 percent in the lower areas.
Hikers will want to check out trails in Berkeley County, including Beacon Tower Trail, Old Still Trail, Eagles Nest Overlook and Devils Nose via the Tuscarora Trail. Color currently is limited to approximately 10 percent peak in Berkeley County, but foresters in the Eastern Panhandle expect an especially vibrant fall season due to plenty of rainfall coupled with warm, sunny days and cool, frost-free nights. Explore the area now to find sites for future leaf-peeking excursions.
Smokey Bear and his forestry friends will be at the Preston County Buckwheat Festival this weekend, Sept. 27-30. Foliage in the higher elevations of Preston County is 15 percent peak, while lower elevations are 10 percent peak. In Hampshire County where foliage also is 10 percent peak, be sure to take Route 50 to Capon Bridge for the 5th annual Founders Day Festival. The festival is Saturday, Sept. 29 and Sunday, Sept. 30.
Travelers are encouraged to call their destination ahead of their visit to ensure the best possible show of color. Weekly updates are available from the Fall Foliage Report or by calling 1-800-CALL WVA. The next fall foliage report will be posted Thursday, Oct. 4 on the DOF's website.
Visit the Division of Forestry's Facebook page for foliage updates throughout the week.
For assistance in planning the perfect getaway, visit WV Weekends. The West Virginia Division of Tourism offers suggestions for lodging, dining and recreational activities in the Mountain State.
Want to preserve the beauty of your trip? Purchase 8" x 10" matted, full-color scenic prints for only $25.