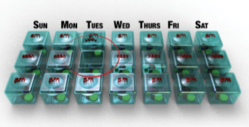 "Building an Medication reminder app for phone or tablet is all the current rage, but whether or not people will use it is the big question." Jeffrey Shepard, CEO Medacheck
Cincinnati, Ohio (PRWEB) September 30, 2012
When Dawn Sheanshang's father was discharged from the hospital and needed help in building a pillbox, she turned to her phone. "There must be an app for that," she thought. She was very disappointed and discouraged with what she found. From this experience coupled with the motivation to help others in the same situation as herself, Medacheck's "Virtual Pillbox" was created. Medication adherence as a $290 Billing dollar problem, Sheanshang believes that there is finally an app that can help.
Medachek has launched its first private beta and is excited with the initial results. "In just short couple weeks, we have seen tremendous interest in our product," states Jeffrey Shepard, CEO of Medacheck. "Building an app for phone or tablet is all the current rage, but whether or not people will use it is the big question. Medacheck has built a product that their customers love. It is easy, effortless to use, and helps you remember to take your medication in a world that has gone technical."
The product is very attractive. It uses high-resolution pictures of medications as well as reminders that are set-up based on the instruction of your pharmacy. If you forget to take your medication within a specified time frame, it will remind you several times before a person calls you or a caregiver. Best of all, it is easy to use and requires very little technical experience. Anyone who owns a smartphone or tablet can use this product with ease.
"We are at an amazing place in the history of the smartphone, and the use of technology with people of all ages," Shepard explains. "One third of the county is taking two or more medications daily, and 77% of those between the ages of 50 and 65 are online. This product is ripe in an ever-expanding marketplace."
"We looked at what products people like and noticed that simplicity and great design seem to really catch people's attention," Shepard notes. "I am a big fan of the late Steve Jobs and Apple designer Jony Ive and their approach to building and designing products that are adored by the masses. We took a similar approach with the Virtual Pillbox and feel that the results from the people that have experienced it thus far are similar."
"Seeing the growth of the product in a very short period of time has impressed us tremendously," states Sheanshang. "I feel like we have built a product that is better than anything I could have imagined. We worked hard to build a product that we are proud to share it with our family and friends. We believe The Virtual Pillbox will help so many people."
The Cincinnati company is currently offering a private beta launch on its website, http://www.medacheck.com. It is easy to sign up to experience a product that will soon be offered by pharmacies around the country. In a world full of smartphone apps, this product really can help solve a billion dollar problem, one app at a time.