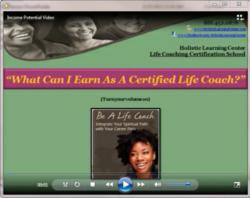 Life coaching manual contains training systems, forms and subjective measuring techniques
Forked Rivers, NJ (PRWEB) September 30, 2012
For the month of October Holistic Learning Centers is offering a 20% discount on its independent life coaches compendium of professional educational products.
The professional life coaching training manual included in the package contains all of the exercises contained in HLC's life coaching success system, the HuMethod.™ It is a professional resource manual designed for experienced practitioners who have several years of field experience in disciples such as life coaching, counseling, social work and psychology.
The life coaching manual contains training systems, forms and subjective measuring techniques that will allow independent life coaches to measure and quantify how to successfully facilitate clinically proven life coaching exercises.
To go along with the manual is a set of twenty eight two-hour life coaching classes on MP3 allowing you to receive the education of the live interactive life coaching students while adhering to your time and/or budgetary restraints.
As all solopreneurs know, in addition to skill in facilitation, skill in marketing is equally essential to have a thriving independent life coaching private practice.
HLC has included in this package a five hundred page digital life coaching marketing mastery manual based on the research of some of the most successful entrepreneurs of our time. Consult this manual regularly as a "how to" guide for building your holistic practice. When questions arise, your first action should be to "look it up" and follow the guidelines that you find on the particular challenge you are attempting to solve.
Also included in the Independent Life Coaching package are HLC's two foundational life coaching and self-help textbooks, Self-Mastery… A Journey Home to Yourself and the Human Handbook.
These materials come in book form and on cd (the Self Mastery book) and audio book (the HuMan Handbook). You also will receive a Cd containing HLC's core meditational exercise, the Spiritual Distinction Meditation along with 100 benefits of doing the Self Mastery work.
As an added bonus, HLC is extending a 90 day tuition upgrade guarantee towards Interactive or Independent Life Coaching Certification Courses.