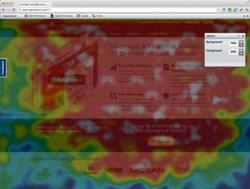 Manhattan Beach, CA (PRWEB) September 28, 2012
SeeVolution is Thrilled to Announce the Expected Launch of Their New Site
Set to launch in mid-October, SeeVolution's new website design promises to impress. As a leader in real-time website analytics and advanced heatmapping technology, SeeVolution's new user-friendly design will provide customers with a simple and informative onsite experience.
Created by an established web designer, their site will soon feature a clean, graphic layout with simple and informative elements that allow for easy access to key software features. Enhancing usability, this design will provide convenient avenues of information for any visitor. Armed with their own site's analytics, SeeVolution developed a layout that brings its customers everything they desire in an analytics website. Along with this creative new design, SeeVolution's features will also receive an upgrade. Their signature toolbar and heatmaps will see faster loading times and even more reliable data delivery.
Exceptional to SeeVolution, the toolbar overlay allows webmasters to see the real-time traffic on their site without leaving their current webpage. Equip with a 'Heatmap' tab, the toolbar give easy, quick access to a variety of heatmap options, each illustrating the site's behavioral metrics.
SeeVolution's intuitive heatmap options include, click heatmaps, scroll heatmaps, live click heatmaps and mouse movement heatmaps. Each of these designs offers visual images of user behavior. A click heatmaps will show a webmaster where a visitor is clicking for example, a link, image, graphic and even dead space using 'hotspot' indicators. Recoding the visitor's scrolling rate and frequency, a scroll heatmap shows this data with color based images that allow visitors to see the 'folds' in their site. Live click heatmaps layout images and 'hotspots' to indicate where a visitor is clicking in real-time. Rounding out the heatmapping options, mouse movement heatmaps utilize a sophisticated eye-tracking technology allowing a visual image of where a visitor's mouse movements were focused.
"We are ecstatic to be launching our new site design. This site will encompass a fresh new layout with high quality usability and features," says Edo Cohen, CEO of SeeVolution.
SeeVolution brings webmasters a gratifying intuitive experience that immediately gives users simple and accurate site metrics. Earning the company praise from Mashable and other prominent technology blogs, their innovative product continues to develop in stride.