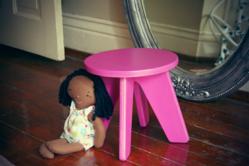 Being nimble and adjusting to consumer trends is one way that Sodura can differentiate itself
Louisville, KY (PRWEB) September 30, 2012
Sodura designs and manufactures eco-friendly, modern kids furniture at their facility in Louisville, KY, and they have announced the introduction of four new colors into their line. They will now produce their signature items in Tangelo orange, Cruise Blue, Gecko green and Verve violet.
Sodura's designs have in most part been known for their modern and somewhat minimalist look. They have stayed close to their natural roots, by showing the furniture in what they call blonde, which is the natural wood color with only a clear protectant on it. But with these four new colors, which "is only the begining", says their GM Brian Scyphers, they are steering in a new direction. One that is much more colorful.
"One of the ways that Sodura can really differentiate itself from others is by showing that we are much more nimble than other brands. We are focused on design, style and having fun, and we can quickly add designs and colors as our customers request it, due to the fact that we produce locally and use the most modern production management systems." says Brian.
Sodura was started in 2011 by two parents who wanted to produce furniture that was real furniture made with the best and most eco-friendly materials. Sodura focuses on modern designs to fit in any space, using eco-friendly materials and doing it all right here in the USA.