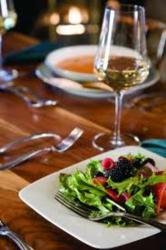 "We have roots so deep in many different musical genres that some other flavors will no doubt show up as well," said the band.
COOKSBURG, PENNSYLVANIA (PRWEB) September 29, 2012
This Columbus Day, the Gateway Lodge will be offering a smorgasbord of fun and entertainment for the three day weekend, October 5th through 8 th. The package includes three nights in a luxury suite, breakfast each morning, live music and dancing, and an appetizer buffet on Saturday evening, all for $699 per couple.
Leather & Lace will take to the stage on Saturday evening to serenade guests with a mix of modern and classic country music. "We have roots so deep in many different musical genres that some other flavors will no doubt show up as well," said the band. "One of our strengths is our tight harmony. There is something special when three siblings are on stage together, we just know what the others are thinking, and it shines through in our final product." Auditory snippets and more can be found at http://www.facebook.com/LandL.Rocks.
Nature photographer Kevin Kaltenbaugh will be on hand to lead a photo walk through Cook Forest on Monday, October 8th at 9 a.m. Guests will be invited to document the visual charms of autumn in the old growth woodland. "This is a wonderful place to explore with a camera," said Kevin, "The colors of the seasons, the trails and the Clarion River all provide endless opportunities for a photographer. I'll be sharing some of what I've learned from many years of living and photographing this area." A variety of Kevin's odes to nature can be found at http://www.kaltenbaughphoto.com. The walk is $25, including lunch at Gateway Lodge restaurant.
The Restaurant at Gateway Lodge features locally sourced, farm to table fare prepared by Executive Chef John Georgvich. A recent recipient of the 2012 Wine Spectator Awards of Excellence, the Gateway Collection highlights the major wine regions of the world. Food and wine enjoy an exciting symbiosis in the captivating chestnut dining room of the lodge, arranged around an inviting hearth.
The Gateway Lodge and Black Bear Cabins are privately owned by Deb Adams, who believes deeply in contributing to her community. The Lodge and Cabins have partnered with multiple area businesses to offer educational workshops on topics such as nature, art, nutrition and wellness. The Gateway Restaurant is a fine dining destination that sources much of its fare from local farmers. The Lodge and Cabins also participate in the PA Wilds Artisan Trail by exhibiting works from local artists.