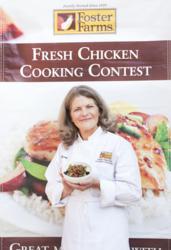 St. Helena, CA (PRWEB) September 28, 2012
Merry Graham of Newhall, Calif., today won the Third Annual Foster Farms Fresh Chicken Cooking Contest held at The Culinary Institute of America at Greystone in California's Napa Valley. Competing against five other finalists from California, Oregon and Washington, Graham's Lemon-Hoisin Glazed Chicken on Roasted Asparagus and Cherry Sesame Rice beat out nearly 1,200 West Coast recipes to win the $10,000 grand prize and a one-year supply of Foster Farms fresh chicken.* In the spirit of the contest's focus on fresh, local ingredients, Graham's recipe featured locally grown ingredients including lemons, asparagus and Foster Farms fresh chicken.
The six finalists prepared and presented their fresh chicken dishes to an esteemed panel of professional chefs and food savvy media judges comprised of John Ash, chef, cookbook author and host of KSRO-AM "The Good Food Hour"; Lynne Char Bennett, food writer and test kitchen director, San Francisco Chronicle; Ken Frank, chef and owner of Napa's La Toque restaurant; Carolyn Jung, author of the Food Gal blog; and Liam Mayclem, host and producer of CBS 5 TV's Eye on The Bay. Judges made decisions based on taste, use of fresh, local ingredients, appearance and appeal, simplicity and ease of making, and originality.
A "People's Choice" award was presented to Karen Bernards from McMinnville, Ore., for her Hoisin Chicken Thighs dish. She was awarded a one-year supply of Foster Farms fresh chicken* and a $1,000 shopping spree at the Spice Islands® Marketplace at Greystone. Last week, at 500 Foster Farms House Parties held in California, Oregon and Washington, thousands of home chefs and their guests prepared and tasted the six finalist dishes for themselves and voted for the "People's Choice" winner, announced today.
"It was an honor to be a part of today's contest and sample the finalist recipes competing," said Ken Frank, chef/owner of Napa's La Toque. "On behalf of all the judges, we were equally impressed with the creativity, use of local ingredients, and variety of fresh chicken dishes created, especially given the wide range of talents and experience among the finalists. It was a difficult decision, ultimately resulting in a win for Merry Graham's Lemon-Hoisin Glazed Chicken on Roasted Asparagus and Cherry Sesame Rice dish because of her use of local ingredients, taste and presentation."
"We've seen the caliber of recipes rise to a higher level of quality and creativity each year through unique pairings of Foster Farms fresh chicken with the rich agricultural bounty from California, Oregon and Washington," said Ira Brill, director of marketing for Foster Farms. "We placed extra emphasis on using fresh, local ingredients in the judging criteria as Foster Farms is committed to delivering locally grown fresh chicken to the store in 48 hours or less."
Graham was delighted to win the Third Annual Foster Farms Fresh Chicken Cooking Contest. "This recipe started out as something my family loved and I kept working on it until I felt it best represented the flavor and integrity of the fresh ingredients," said Graham. "I've always been a fan of Foster Farms and will continue to be."
As far as trend indicators, many of the recipes submitted this year were health-focused. Grains and legumes, such as quinoa, barley and lentils, were widely used to complement the fresh chicken. Many recipes also included rubs, several of which incorporated coffee or tea.
Lemon-Hoisin Glazed Chicken on Roasted Asparagus and Cherry Sesame Rice
Serves 4 – 6
6 Foster Farms chicken thighs, boneless and skinless, cut into 1" chunks
2 ¼ tsp salt, divided
1 tbsp minced ginger root
4 cloves garlic, chopped, divided
3 tbsp peanut oil, divided
6 green onions, chopped, with whites and greens divided
1 1/2 cups jasmine rice, rinse well and drained
2 cups low-sodium chicken broth
1/4 cup lemon juice, divided
2/3 cup dried cherries, chopped
1 tbsp toasted sesame oil
1/3 cup rice wine vinegar
1/4 cup Hoisin sauce
1 1/2 tbsp honey, divided
1 large lemon or two small, finely grate zest
1/2 tsp red pepper flakes, divided
2 tsp black sesame seeds
1 pound fresh asparagus, trimmed and cut into 2" pieces
1/2 cup chopped cilantro, divided
1/3 cup roasted salted almonds, roughly chopped
Mix chicken, one teaspoon salt, ginger, and half of the garlic. Set aside.
In medium saucepan over medium heat, warm one tablespoon peanut oil. Stir in onion whites, remaining garlic, and jasmine rice. Cook, stirring frequently, for 8 minutes or until beginning to toast. Add broth, half of the lemon juice and one teaspoon salt; bring to a boil. Cover, reduce heat to low, and cook 15 minutes. Uncover, fluff with fork, stir in dried cherries, sesame oil, and remaining green onions. Set aside.
In large frying pan over medium high heat, warm one tablespoon peanut oil. Add chicken and cook, stirring frequently, for 6 minutes or until no longer pink on the outside.
In small bowl, stir together vinegar, Hoisin, one tablespoon honey, remaining lemon juice, half of the lemon zest and 1/4-teaspoon red pepper flakes. Add sauce to chicken in pan and continue cooking for 10 additional minutes on medium. Raise heat to high and cook for 2-4 minutes until sauce on chicken is dark and has thickened. Sprinkle chicken with black sesame seeds. Remove pan from heat, set aside and keep warm.
In second large frying pan, warm remaining peanut oil over high heat. Add asparagus, remaining honey, red pepper and remaining salt. Cook, stirring frequently, for 2-4 minutes, or until asparagus is tender.
To serve, plate rice on serving platter. Top with half of the cilantro, almonds, and roasted asparagus, Top with chicken pieces. Sprinkle with remaining cilantro and lemon zest.
The six finalists each won $1,000 in Regional Competitions held in Portland, San Diego, Calif., and Seattle, in the weeks leading up to today's Final Competition. The finalists competed with the following recipes:

Cherry and Goat Cheese Stuffed Chicken with Merlot Scented Lentils - Sandra Gray (Seattle, Wash.)
Cumin Chicken Paillards with Grape Tomatoes, Scallions and Wine - Judith Berman Yamada (Portland, Ore.)
Hoisin Chicken Thighs - Karen Bernards (McMinnville, Ore.)
Spice Rubbed Chicken Thighs with Chipotle Béarnaise over Avocado Lime Quinoa Salad - Jackie Dodd (Los Angeles, Calif.)
Tea Rubbed Chicken with Apple Spinach Salad and Spicy Nuts - Rebecca Cameron (Bonney Lake, Wash.)
For complete recipes and upcoming information on the 2013 contest, visit: http://www.fosterfarms.com/cookingcontest.
Family-owned Foster Farms, with a more than 70-year legacy of chicken farming in California, joins the California Poultry Federation and other leading agricultural groups in supporting Eat Local, Buy California Grown. The company holds true to its commitment to fresh and natural poultry grown local to each region. The company owns private ranches throughout California and works with more than 40 local, family-owned farms throughout Washington and Oregon to ensure that Foster Farms chicken is delivered truly fresh to stores within 48 hours or less, unlike out-of-state chicken which could take four days or more.
About Foster Farms
Since 1939, West Coast families have depended on Foster Farms for premium quality chicken products. Family-owned and operated, the company continues its legacy of excellence and commitment to quality established by its founders, Max and Verda Foster. Foster Farms specializes in fresh, all natural chicken products free of preservatives, additives or injected sodium enhancers. Based in California's Central Valley, with ranches also in the Pacific Northwest, the company's fresh chicken is produced in or near each region served and delivered fresh within 48 hours. Foster Farms also produces delicious pre-marinated, ready-to-cook and fully cooked products that meet the quality and convenience needs of today's home cooks, retailers, warehouse clubs and foodservice customers.
Food safety is Foster Farms' highest priority and the company would like to remind consumers to always follow safe handling, preparation and storage guidelines for the preparation of fresh poultry products. All fresh poultry products should be cooked to an internal temperature of 165 degrees F (boneless and ground) and 180 degrees F (bone-in). Visit: http://www.fosterfarms.com to learn more.
*Grand Prize winner and People's Choice winner will each receive 104 $10 vouchers good for Foster Farms fresh chicken.
###
Editor's Note: For interviews with contestants, contest and recipe photos, etc., contact Fineman PR at 415-392-1000 or Chelsea Sterling at csterling(at)finemanpr(dot)com.