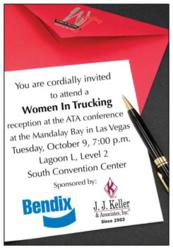 Bendix Commercial Vehicle Systems and J. J. Keller & Associates, Inc are sponsoring a reception for the Women In Trucking Association, Inc. in Las Vegas, Nevada
Plover, WI (PRWEB) September 29, 2012
The event is open to anyone interested in connecting with carriers who support WIT's mission. The reception will occur on Tuesday, October 9 beginning at 7:00 pm in Mandalay Bay's Lagoon L (Level 2).
Women In Trucking (womenintrucking.org) was formed in 2007 to encourage women to consider a career in the trucking industry, while addressing challenges that might keep women from entering or succeeding in the trucking industry. The organization also recognizes and promotes the accomplishments of women who are already employed in the trucking industry.
Directors of the organization will be available to greet current and potential members of the nonprofit association. "We are hosting this event to give industry professionals an update on the activities of WIT, but we are also interested in hearing from carriers who support our goals to better understand how-together-we can bring more women into the trucking industry," said Leigh Foxall, WIT's Chairwoman of the board and Director of Sales and Marketing for Internet Truckstop.
Bendix Commercial Vehicle Systems (bendix.com) and J. J. Keller & Associates, Inc. (jjkeller.com) are sponsoring the reception. Reservations are not required. All ATA MC&E attendees are encouraged to attend and to learn more about Women In Trucking Association and its accomplishments and goals.
WIT holds an annual "Salute to the Women Behind the Wheel" (salute2women.com) to honor professional female drivers and the "Influential Woman in Trucking Award sponsored by Navistar." They also offer an anti-harassment employment guide to its members. Recently the association formed a Scholarship Foundation. The group includes more than 2,200 members: both individuals and corporations.
Women In Trucking was established to encourage the employment of women in the trucking industry, promote their accomplishments and minimize obstacles faced by women working in the trucking industry. Membership is not limited to women, as sixteen percent of its members are men who support the mission. Women In Trucking is supported by its members and the generous support of Gold Level Partners; Bendix Commercial Vehicle Systems, Daimler Truck NA, Frito-Lay North America , Great Dane Trailers, Hyundai Translead and Walmart. Silver Level Partner is C. H. Robinson Worldwide, Inc. For more information visit http://www.WomenInTrucking.org or call 888-464-9482.