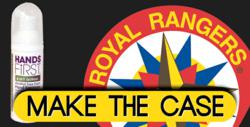 This program is only enhancing what God has called me to do
San Diego, CA (PRWEB) September 28, 2012
Rich Smith a Royal Ranger District Commander is utilizing the novel fundraising program, "Make the Case" for Royal Rangers to help change the lives of California youth. "Make the Case" tasks each Royal Ranger Outpost to sell cases of Hands First® Sanitizer to a business in their community. To date, Smith has sold 2,000 cases or half of a semi-truck load, and now he is asking the San Diego community to help him fill the other half at The Awakening Event, 9am-3pm on Saturday October 6 at Joe Balderrama Park, 709 San Diego Street.
Smith's primary church, Shiloh Church of God and Christ, is a small 40 member congregation in Ocean Side California. "The church sits in the middle of gangland," says Smith. "There is a fence around the church." Smith thought if he could start a Royal Ranger program at Shiloh he would help keep kids off the streets. He currently has 15 Rangers in his Outpost, but hopes "Make the Case" will help that number grow.
Smith, a California native started as a senior commander with the Royal Rangers in 1982. Royal Rangers is a mentoring program for future men that provides Christ like character formation and servant leadership development for boys and young men. This year the Rangers have launched their first national fundraising campaign, "Make the Case".
"Make the Case" for Royal Rangers takes a different approach to raising money than traditional fundraising campaigns. Each Outpost is selling Hands First, a non-alcohol hand sanitizer medically documented to provide lasting protection for up to three hours without the need to reapply. "Rather than doing a traditional fundraiser involving door-to-door selling of one or two products at a time, we decided to leverage the business community within each of our churches and communities and aim to sell entire cases at once," says Doug Marsh, National Director of Royal Rangers. The program is unique in that it's designed for the Royal Rangers to ask the businesses to simply re-direct what they're already spending on sanitizers, get a quality product and help these boys and the communities at the same time.
Smith is hoping that "Make the Case" will lead to expanded outreach ministries throughout California. "This program is only enhancing what God has called me to do", he says. The funds Smith raises through the "Make the Case" program will be divided up among 36 churches throughout California for various children's initiatives including: after school programs, scholarship programs, sponsoring sports teams, food drives, clothing drives, attending camps and buying Royal Ranger uniforms for kids who otherwise could not afford them.
Hands First® is available in cases of 1.7 oz. bottles, 20 oz. bottles and wall mounts, ensuring the hand sanitation needs of any type and size of business entity can be met. If you would like to support the Royal Rangers by purchasing a case of Hands First and help Rich Smith fill the semi-truck contact: Rich Smith at rsdsc(at)aol(dot)com.