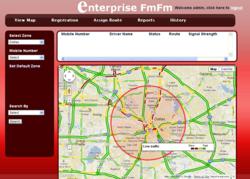 Enterprise Find Me Follow Me is a web-based application that allows GPS tracking via mobile phone numbers.
Irving, Texas (PRWEB) September 28, 2012
Newt Global's mobile GPS tracking application, Find Me Follow Me recently expanded to include an Enterprise Edition that can handle large enterprise-level vehicle tracking capabilities. Based on Newt Global's initial public mobile application, Find Me Follow Me, Newt Global developers built upon and expanded the application in order to deliver an enterprise edition that could handle a variety of business sizes. Enterprise Find Me Follow Me is the first in a series of application tracking systems that Newt Global has designed for business enterprises.
Enterprise Find Me Follow Me is a web-based application that allows GPS tracking via mobile phone numbers. The GPS tracking system can be used to track enterprise vehicles such as cabs, school buses, sales representatives, and courier services. Among the main benefits of the application, the GPS tracking enables the location of the nearest hospitals and emergency services that are closest to the vehicle's current location. The app provides enhanced security and safety, and enables enhanced productivity. eFmFm allows for real-time vehicle tracking, as the application administrator can find and navigate a vehicle which has registered their mobile number with eFmFm. The location of the vehicle is updated automatically every 20 seconds in the navigation map that is displayed on the active mobile phone. eFmFm displays the actual route the driver is taking along with the planned route information.
After registering a mobile phone number into the eFmFm register, an administrator can find and navigate vehicles. An administrator is also able to add, modify, and delete zones, plan and assign routes and zones, as well as have driver details and customized reports. An administrator will be able to see whether a vehicle is inactive or active and can determine whether the vehicle is deviating from the specified route. Reports can be generated on multiple parameters. With a wide range of administration features and options, eFmFm allows for easy customization and handling of the GPS tracking.
The launch of Enterprise Find Me Follow Me marks Newt Global's foray into enterprise-ready mobile applications. With enterprise-level capability, Enterprise Find Me Follow Me allows businesses to increase their productivity and on-time availability by enhancing the communication and coverage of their vehicles. User-friendly with numerous administrative options, eFmFm will allow businesses to accurately and efficiently track their vehicles, along with enabling easy review of zones and routes.
eFmFm finds extensive usage in any organization using vehicles to drop and pick up employees, courier agencies to provide accurate information to end customers, companies providing any service involving dispatch of technicians, and companies needing to know accurate locations of any person, vehicle etc. Thought leader and chief architect of the product line, Satish M Goel said, eFmFm will find worldwide use and implementation in the near future. eFmFm is offered by Newt Global in both SaaS and on premises offering.
About Newt Global Consulting, LLC
Newt Global Consulting is a MBE/WBE/HUB Certified Global IT services company headquartered in Irving, Texas and is a Tier-1 vendor to multiple Fortune-500 clients. They specialize in a range of IT services on a broad range of technologies, mobile development, QA, and program management. Newt Global leadership is committed to staying at the forefront of technology, and has invested in building a mobile development/testing framework and has recurring training programs in both iOS and Android. Learn more at http://www.newtglobal.com.