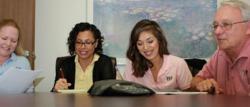 To register to participate in teleconferences go to www.triptrans.org
Riverside, CA (PRWEB) September 30, 2012
Funding and the ability to sustain services, liability concerns, and gaining community recognition of the need for additional special services were the top barriers that participants cited during the latest teleconference sponsored by the TRIP Across America initiative of the non-profit Independent Living Partnership (ILP).
According to Richard Smith, ILP Executive Director, "In every community there are people who are transportation underserved." He said "These are people who live in an area without public or other transportation services or where minimal services are provided, or they are people who are unable to use existing services due to illness or disability." "In addition", he continued, "They are probably elderly, live alone, and have disabilities or suffer from chronic or serious illnesses or mental impairments that limit their mobility, and usually they are living on a very low income that is near or below the poverty level."
Adrienne Stokols, Orange County California TRIP said, "We have found that over half of our users are ACCESS eligible but, due to their impairments and limitations, are unable to use ACCESS."
Steve Kramer, CEO of the start-up Solutions for Seniors service in Goodyear, Arizona, told teleconference participants, "When car keys are taken away, other services need to be provided." Kramer continued that once there is community recognition that a service is needed, he thinks everyone has the same problem of getting necessary funding.
Elaine Binder, Montgomery County, Maryland Council on Aging, and Susan White-Wood, Ventura County, California Office on Aging, agreed that insurance concerns are a barrier to starting and operating volunteer driver programs.
According to Smith, "Achieving stakeholder agreement about what kind of a service should be provided is a difficult challenge many communities face initially." OC TRIP in Orange County, California and TRIP Metro North in Medford, Massachusetts evaluated multiple service designs before deciding to start TRIP model programs.
Jean Foletta with Paratransit, Inc. in Sacramento, California told the teleconference participants that they designed the Bridges service for Stanislaus County, California with the idea that what they designed would fill gaps in service and avoid duplication of services that were already being provided. Foletta said that the key things they faced in the beginning were getting over liability issues and holding enough stakeholder meetings to establish community support in advance of launching the service.
Kramer agreed that he thinks developing relationships with area businesses, government agencies, the responsible transportation planning organization for the region, and existing area transportation services is a key step in starting a complementary transportation program.
Toni Levyssohn of Community Connections in Claremont, California told the group that for them a very important step had been establishing supportive and referral relationships with social workers and health and human services providers in their area. Community Connections began with service in two cities and has now expanded to serve the residents of ten cities in Eastern Los Angeles County.
Smith says, "The original idea of the teleconferences was to create an opportunity for the staff and managers of new TRIP services everywhere to come together to discuss their experiences, challenges and successes with each other, and with TRIP Riverside staff, so that we could all learn together." He says, "The first teleconference was kind of spur of the moment, announced only two weeks before it was scheduled, and still it was attended by twenty planners, operators, and consultants from different areas of the country."
The novel teleconference format has been well received, according to Smith, but is now attended by as many people who would like to know more about the TRIP model program as by those who are already starting or operating TRIP programs.
TRIP Conversations are now held on the last Thursday of every month and are free to callers. The subjects for discussions are determined by the suggestions of teleconference participants. To register to participate in teleconferences go to http://www.triptrans.org