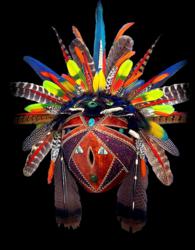 Carefree, AZ (PRWEB) September 29, 2012
Now in its 19th year, the Carefree Fine Art & Wine Festival, to be held this November 2, 3 & 4, has taken numerous national awards, thus attracting renowned artists from throughout the state of Arizona, the United States and abroad. The Town of Carefree is a quaint town and has a unique following of their own with specialty shops, galleries, boutiques, restaurants and outdoor cafes.
Carefree Fine Art & Wine Festival attendees will meet featured gourd artist, Dave Sisk. Sisk primarily chooses the Sonoran Desert as inspiration, plus his profound respect for Native American tradition and culture which inspires him deeply. Dave uses a combination of traditional materials, including leather dyes, precious stones, feathers, horse hair and porcupine quills to create contemporary masks. His breathtakingly beautiful and sometimes haunting masks have been commissioned from throughout the United States as well as Europe. He has won a myriad of awards throughout his lucrative career as a gourd artist. Be sure to stop by his booth and see his latest selection of masks.
The Town of Carefree closes their streets to welcome 165 talented artists, in addition to musicians and wineries with that "Carefree style" hospitality. Their slogan is 'Home of Cowboys & Caviar, Where the Old West Meets the New'. In addition to meeting the artists, their exhibits will include spectacular paintings, unique scratchboard, lovely batiks, sparkling glass, stone and handsome metal, copper, clay and mixed media sculptures. See medium to life-sized bronzes and mixed media sculptures, along with photography, jewelry and more.
WHAT, WHEN & WHERE?
Carefree Fine Art & Wine Festival, November 2, 3 & 4. 10am to 5pm, Daily
101 Easy Street • Downtown Carefree
FEATURING
Featuring Gourd sculptor, Dave Sisk, along with another 165 award-winning artists, fine wines represented by various wineries & live musical entertainers.
ADMISSION, PARKING & MORE
Admission $5.00. Free Parking. Call 480-837-5637
Thunderbird Artists is donating $1.00, from every admission ticket, to the non-profit 501c3 veterans' charity, American Healing Arts Foundation. Thunderbird Artists is additionally donating a second dollar from admission to the Carefree Cave Creek Chamber of Commerce for this festival. The Chamber is also the wine hosting charity and receives 25% of gross wine ticket revenue. Free admission to Carefree Residents.