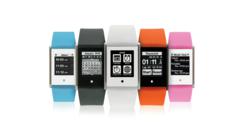 Los Angeles, CA (PRWEB) September 28, 2012
Touch TimeTM, a new smart watch from Phosphor Watches, is finishing their last day on the popular crowdfunding website Kickstarter.
Touch TimeTM is a spin on the typical digital watch. It utilizes a touch interface with the same capacitive touch screen technology that can be found in Smartphones today, making it easy and familiar to use. The Touch TimeTM does not need to sync with the wearer's smartphone, allowing them to manage their settings directly from the watch.
To thank everyone for their support, Phosphor has added a new reward for any last-minute backers. People who pledge at least $20 can now receive a Phosphor Watches t-shirt, which can be viewed here.
"We're extremely happy with the success of our Kickstarter campaign for the Touch Time product line and can't wait to bring it to market for our supporters," said Creator Donald Brewer.
With one day left, Touch TimeTM is trending towards over $300,000, which will make it one of the most successful projects on Kickstarter. The campaign is schedule to end on Sunday, September 30 at 9:59 A.M. EDT. To pre-order your Touch Time and to follow the project, visit their Kickstarter page at bit.ly/TouchTimeKS.
About Phosphor Watches
Phosphor is a new American watch brand focused on the relentless pursuit of watches that integrate new technologies combined with compelling design. The Phosphor brand is owned by Art Technology Limited, which has offices in both United States and Hong Kong. More information can be found at http://www.phosphorwatches.com. Stay up to date with Phosphor on Facebook at http://www.facebook.com/PhosphorWatches and follow Phosphor on Twitter @PhosphorWatch.