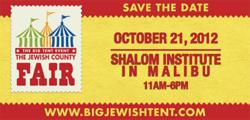 Los Angeles, CA (PRWEB) September 30, 2012
Shalom Institute in cooperation with Craig N Co hosts the 3rd Annual Jewish County Fair – an Outdoor Community Celebration of Food, Music, Body, Mind, and Spirit. The event, to take place on October 21st, 2012 , will include Performances by SoulAviv, Ari Herstand, Melita of Octopretzel, Robbo, Cindy Paley, InJoy Orchestra, and many more. More than just a music event, Jewish County Fair attendees will also learn how to make pita using herbs from the Shalom organic garden at the bread-making tent or ride the zip line. Enjoy works from local Jewish artists while exploring the worlds of kosher wine tasting and yoga.
"I am so proud to be a part of this event again this year." said Bill Kaplan, Executive Director of the Shalom Institute: Camp and Conference Center. "Now, more than ever, we need to see our community as one big tent and work together. This is a festival that recognizes all of us, a people of beautiful culture, music, dance."
The Festival kicks-off at 12 pm on October 21st at the beautiful Shalom Institute in Malibu (http://www.shalominstitute.com) and will host food vendors, performers, and fun activities for all ages throughout the day. The Jewish County fair will also be host to an American Red Cross Mobile Blood Drive.
Tickets may be purchased online at http://www.bigjewishtent.com. There are currently 50 event sponsors. The celebration will also include climbing walls, archery, tomahawk throw, bike blender smoothies, bungee trampoline, cider making, nature crafts, petting zoo, and much more.
Shalom Institute is a year-round experiential Jewish education center which is accredited by the American Camp Association, affiliated with Jewish Community Centers of North America, and beneficiary of the Jewish Federation of Greater Los Angeles.
Craig 'n Co. is an independent record label and production company, headed by top-selling Jewish musician Craig Taubman, that creates and distributes some of the best Jewish music in the world.