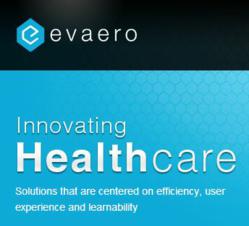 "It is our goal to empower treatment providers to deliver better patient care, while improving the health and lives of the people that go through their facilities."
Temecula, CA (PRWEB) September 30, 2012
Evaero is a software company that provides innovative software solutions exclusively to mental, behavioral, and substance abuse treatment organizations. These solutions give treatment organizations ways to manage patient data, manage client relationships, and market their facilities effectively.
Evaero is set to launch their new Customer Relationship Management (CRM) solution called OnCare; a user friendly software solution that assists with customer relations within mental, behavioral, and substance abuse facilities. OnCare helps manage marketing activities, referral and inquiry tracking, call center activity, bed reservations and admission planning, demographic and patient information tracking, admission, discharge, transfer tracking, and much more.
In a statement, Evaero's CEO, Duncan Evans said; "We have seen the direct impact of implementing effective performance tracking into treatment facilities. All treatment centers have a desire to treat as many patients as possible; our goal is to help them clearly identify what works and what doesn't, and help them see where they are spending marketing dollars effectively and what admissions they are getting for their dollar spent. Much of the time we see facilities spending tens of thousands of dollars or more on marketing and have little to no idea what it is doing for them, in addition they have no way of seeing where the problems lie or how to improve ROI and care at the same time. Although there are many CRM solutions on the market today, most of them are pretty generic and don't meet the specific needs of substance abuse treatment centers. If a facility wants to track specific activities relative to their business, very expensive customization is almost always required. Our CRM is designed with these needs in mind, it helps treatment centers clearly understand how they are performing on a day to day basis and it helps key staff members become more aware and accountable of their duties and responsibilities towards those goals."
Evaero is expanding on their product line and focusing on adding Electronic Medical Record (EMR), and Revenue Cycle Management (RCM) capabilities to OnCare in the coming months that are specifically designed to meet the needs of facilities in the mental and behavioral health field, making the solution more efficient and cost effective with a heavy emphasis on user experience, learnability and high adoptability by treatment center staff.
Aside from software solutions, Evaero also has a full service digital marketing division that was formed to help treatment centers accomplish their online marketing goals, while utilizing its proprietary marketing tracking and CRM software to refine treatment organizations marketing efforts. The digital marketing services include search engine optimization (SEO), paid advertising optimization (pay per click), social media, reputation management and more. This division of Evaero helps treatment centers through the entire online marketing process, from website design and development to strategic planning of online marketing. Evaero offers this full web presence management service exclusively to providers in the mental, behavioral, and substance abuse fields because the company believes in the value of providing focused, industry specific, online marketing expertise to facilities in these markets.
Evaero is a rapidly growing company that specifically targets the mental and behavioral health market by meeting the need for cost effective, innovative solutions to patient data management and marketing in this field. Staff at Evaero believe that, "It is our goal to empower treatment providers to deliver better patient care, while improving the health and lives of people that go through their facilities."
This company strives to help facility owners understand how their centers are performing, track patient data effectively, and allow treatment providers to focus on patient care. "We combine a customer and patient centric culture with products that are centered on efficiency, user experience and learnability; all with the goal of accelerating the adoption of our solution across the healthcare industry, and allowing us to share, report on, and analyze healthcare data effectively and in ways that have a true impact on the industry as a whole." For more information about Evaero's products and services, please visit: http://evaero.co and http://digitalmarketing.evaero.co