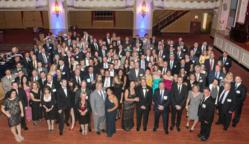 companies are family owned and have a strong commitment to quality and customer service.
Boston, MA (PRWEB) September 30, 2012
The NorthEast Laundry Association(NELA), which represents the textile supply and service companies in New England, held its 100th Annual Meeting & Fall Conference September 21-23rd, Boston. Americans benefit on a regular basis from the cleanliness and safety provided by the commercial laundry industry.
Industry titans Ronald Croatti, President & CEO, Unifirst Corporation, Alan Schwartz, President, Superior Uniform Group, and Arthur Spilios, CEO, Crown Linen Services were the featured panelists during the business meeting. All three companies are family owned and share a strong commitment to quality and customer service. The panelists provided insight into how the industry has changed, including the numbers of product offered, globalization, and technology.
The weekend culminated with a dinner dance on Saturday, September 22nd in the Imperial Plaza Ballroom of the Park Plaza Hotel, Boston. Current and former industry professionals enjoyed the sounds of the Red Satin Band.
***********
The NorthEast Laundry Association is a trade association serving commercial laundries and the companies who supply them. Millions of people rely every day on the clean uniforms, garments, linens, towels, walk-off mats and other products provided by commercial laundries. They provide hygienic sustainable laundering services that offer cost-effective, energy-efficient solutions while protecting the environment and employing thousands of individuals in highly safety-conscious workplaces throughout New England.