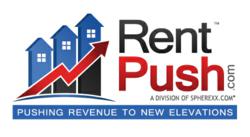 RentPush.com is not just a pricing matrix, it is an income optimizer and stabilizer.
Dallas, TX (PRWEB) September 30, 2012
The apartment industry is seeing a new star rising on the revenue management horizon: RentPush.com. RentPush.com has begun beta testing and will be available to the multi-family industry during the first quarter of 2013.
The software introduces some advanced features into the apartment revenue management market, which is yet in its infancy with approximately 15% of professional management organizations currently using revenue management in the apartment industry, according to Steve Lefkovits of Joshua Tree Media, co-producer with the National Apartment Association of the 2012 Apartment Revenue Management Conference. Conversely, 9 out of 11 major REITS are currently using a revenue management system. It is projected that four out of five professional management operators will adopt revenue management software in the next three years.
"With such a wealth of knowledge now available through Internet technology, it is very easy to suffer information overload, thereby missing the forest for the trees when it comes to pricing," says Becca Wilson, President & CEO of Spherexx.com, the parent company of RentPush.com. "We orchestrate vital information together into a precision pricing strategy. RentPush.com, by its design alone, reacquaints owners, investors and managers to the intrinsic value of their individual assets, one unit at a time. RentPush.com is not just a pricing matrix, it is an income optimizer and stabilizer; it goes well beyond pricing and deep into operations and valuation."
Spherexx.com has been developing RentPush.com over the years. Predecessors of RentPush.com, developed by Spherexx.com, are natural resources of pertinent data that support the pricing algorithm: ILoveLeasing.com contributes demand and MarketSurveyTools.com supplies competitor and market analysis. The development team has impressive credentials: a PhD in Operations Management and Computational Intelligence, MA of Computer Science and Finance, Multifamily Information Technology Director, CPMs®, Real Estate Agent, Leasing & Management Training Consultant, Asset Manager, and a pool of talented programmers. Spherexx.com represents over eighty years collective property management leadership experience.
RentPush.com will be introduced at the 2012 Apartment Revenue Management Conference held in Dallas, TX, October 15 through October 17. For more details visit MultifamilyRevenue.com.
About Spherexx.com ®—Ad Agency | Software Development | Data Centers
Established in 2000, Spherexx.com is recognized as an established leader in the apartment industry website, Internet marketing and software development services. With offices located in Tulsa, Dallas, Austin and Houston, the company has been distinguished as one of INC5000's fastest growing companies. Spherexx.com offers a wide selection of professional services including web design and development, touch-screen kiosks, Internet lead generation tools, online advertising, apartment leasing consulting, advanced mobile technology, apartment lease-up marketing consulting, and search engine performance. The company also provides branding services, video/multimedia production, print media, and copywriting as well as website and email hosting, database solutions, pay per click, e-commerce solutions and custom programming. Spherexx.com has developed CRM (customer relationship management) products, marketing and lead generation tools that allow clients to better manage and convert leads to leases and sales. These applications are branded under ILoveLeasing.com; MarketSurveyTools.com, MessageKast.com, and RentPush.com. Spherexx.com provides web-based prospecting, marketing, advertising management, and support services.
Spherexx.com has provided services to innovative real estate companies like Lincoln Property Company, Simmons Vedder, Cottonwood Capital, Forest City Enterprises, Graham Residential, and ZRS Management, LLC. The company represents a collective seventy years of direct, executive level property management experience that readily identifies with the challenges and solutions of multi-family property management professionals. It is also a double recipient of the 2012 Summit International Creative Awards.