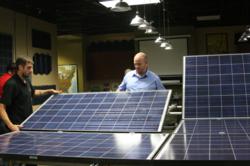 our customers deserve a solid local solar company
Murrieta, CA (PRWEB) September 30, 2012
The Redline Electric & Solar team is led by Joshua Farley, who says, "I was raised with a voltmeter in my hand. I have been an electrician for 20 years, learning from my dad, Roy, who is a master electrician and my partner in the firm until his retirement last year. Between the two of us, we have 60 years experience in the trade."
Historically, Redline Electric has offered specialty services including big equipment, service panel upgrades, energy-efficient lighting, motor controls, underground circuit work, troubleshooting, UPS battery back-up, generator and emergency systems. The firm now adds Solar Photovoltaics to their line-up and is powered by the nation's most strategic solar support and distribution company, Ambassador Energy, Inc.
Farley continued, "We are way ahead of the game given our experience as electricians and Ambassador Energy's solar expertise. With the intensive training we have gotten from NABCEP certified instructors at AE's solar training facility in Southern California, we are able to launch head-first into our solar work and know that our customers are going to get the best design, products, service and pricing. We believe that our customers deserve a solid local solar company, instead of falling into the hands of nationwide companies who don't always have their best interest at heart. With AE as our back-end solar support partner and our knowledge of our community and clients, we are confident in our ability to help bring Arizona and Nevada further into the solar movement."
Kelly Smith, President of Ambassador Energy said of Redline, "We hand selected them. We were looking for an excellent team in the Phoenix area and feel really great that we found Joshua and his team. They are skilled, ambitious, conscientious and a lot of fun to work with."
To take advantage of the energy from the sun and get a no-obligation customized quote, contact Redline Electric & Solar.
About Redline Electric & Solar
Redline Electric is a family owned-and-operated business located in Mesa, AZ, offering commercial and residential electrical and solar services throughout Arizona and Nevada. Contractor licenses includes: Arizona (K-11 Lic#254292) Nevada (C-2 Lic#0076908) http://www.RedlineElectricLLC.com
About Ambassador Energy
Ambassador Energy [AE] has a three-pronged business model, including Ambassador Energy College Solar Training, the Ambassador Energy Agency Program and Ambassador Energy, an EPC contractor. On staff are NABCEP Certified PV Installers, NABCEP Certified PV Technical Sales professionals [Fulgham/Kelso] and multiple NABCEP EL graduates. AE Agencies are nationwide. Ambassador Energy EPC installs PV systems throughout California.
See us on Facebook.