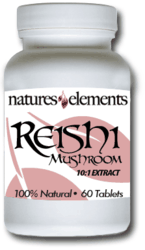 Reishi relieved my stress and helped me relax at night. Thank you!
Lindenhurst, NY (PRWEB) September 29, 2012
Reishi Mushroom does it all, from strengthening the liver, promoting healthy blood circulation, to reducing stress and anxiety. The list doesn't end there, this miracle mushroom aids in sleep and relaxation, promotes healthy brain chemistry including memory and concentration. This mushroom has even been used for acne, psoriasis and eczema. When taken regularly this mushroom regulates the immune system and allows all organs to function normally.
Reishi mushroom has been used in Traditional Chinese Medicine for over 2,000 years making it one of the oldest mushrooms used medicinally as well as one of the most scientifically researched herbs on the planet. Because of all the presumed health benefits and apparent absence of side effects, Reishi Mushroom has attained the reputation of being the ultimate longevity herb.
Not all Reishi Mushroom products are created equal. As with any new product, Natures Elements strives to offer the best and most potent supplements for the consumers maximum results. This is of course true with the new Reishi Mushroom. Natures Elements continues to stress the importance of reading and understanding the supplement facts. Any product can be labeled Reishi Mushroom, but there are at least 3 things to know when buying Reishi Mushroom.
First and foremost, observe the label. Now that the benefits of what Reishi Mushroom provides is clear, it is important to check that the Reishi Mushroom being offered contains a powerful enough dosage to ensure real results. A concentrated 10:1 extract of Reishi Mushroom offers the purest and most potent form.
Secondly, make sure there is enough 10:1 extract of Reishi Mushroom in each dose. The dosage should be at least 1,000 mg, which is usually split between two 500 mg tablets. Lastly the product should have enough supply to last one month, this is important when comparing price.
Natures Elements is one of the few companies around that makes is easy for customers to feel safe and securing by knowing what they are getting. They also offer the convenience of Auto-Ship, which provides automatic monthly shipping with the advantage of receiving 20% off.
Natures Elements is committed to delivering high quality vitamin and herbal supplements and providing real results through dedicated research and superior formulas.