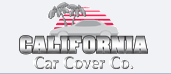 "All kinds of weather conditions have the potential to damage a vehicle's paint, finish and body,' explains Jimmy DeFrank, President and Founder of California Car Cover Company
(PRWEB) September 30, 2012
California Car Cover Company, a leading distributor of custom car covers, has seen a rise in customers seeking protective covers in response to severe summer and fall weather conditions. As summer temperatures rise to above average highs, many car enthusiasts responded by taking precautions to protect their more valuable vehicles. Now, as fall approaches, the threat of hail and wind sustain the demand for durable car covers.
Jimmy DeFrank, President and Founder of California Car Cover Company, explained why more car owners are seeking covers for their autos. "All kinds of weather conditions have the potential to damage a vehicle's paint, finish and body. In the summer, heat can be a big risk, whereas as we move into colder weather, the snow and hail cause more problems." He added, "Outside of weather, things like bird droppings, dust and mildew also pose a risk that a high-quality cover can prevent."
California Car Cover Company offers covers in a range of materials and sizes that provide protection against a range of conditions, based on indoor or outside storage; each type of cover available comes with a specific warranty.
About California Car Cover Company – California Car Cover Company is a leading provider of custom-fit car covers, offering more than 80,000 custom car cover patterns. All covers are custom-made to cover a variety of popular and classic cars and provide a snug fit. The company also offers many other products and tools to enhance and protect classic cars. For more information please visit, http://www.calcarcover.com or call 1-800-423-5525.