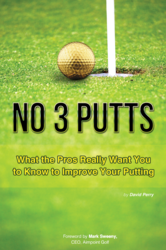 Fort Collins, CO (PRWEB) September 30, 2012
Dave Perry, author of No 3 Putts book, announced the book is rated #1 on Amazon in the golf books category!
Due to the reviews and success of the No 3 Putts book on putting, an offer for a free e-book from Sept 26-29, 2012, the book was the top choice for golfers looking to improve thier putting. "I am very pleased golfers have chosen No 3 Putts during the offer period" according to the author.
Signed copies of the printed book are still available at http://www.no3puttsbook.com
No 3 Putts was developed by Dave "No 3 Putts" Perry based personal experience in golf and working with several golf companies, golf pros and industry experts on putting training aids. As an engineer and marketing professional, he has managed marketing programs, including international golf and yachting events.