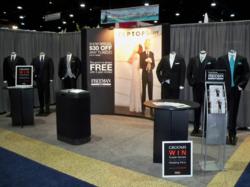 Los Angeles, CA (PRWEB) September 29, 2012
In anticipation of an expanding economy in 2013, and one in which many new young businesses will be entering their first trade shows as exhibitors, P.O.P. is in the process of expanding it's line of Pop Up Displays. Though the company has been selling Pop up Displays since the early days of the business, dating back to 1995, our focus has quietly shifted over the last several years to larger exhibit rentals and sales.
There has been a rebound in the trade show industry in 2012 from the dark days of 2009-10, however, and for this reason as well as the gradual improvement in the economy in general, many are expecting to see continued growth next year. We expect many new exhibitors to come in with smaller booth spaces and budgets.
The good news for them is that pricing on Pop Up Displays has settled down after a precipitous decline that started in about 2005 with the influx of offshore product from China. Many exhibit companies, including P.O.P. Exhibits Inc., decided to step back from the market as profitability tumbled. At the same time, however, there hasn't been much in the way of new portable exhibiting products that can both compete with the portable up display on price and, importantly, with their billboard like capability to get a message across in a small 10 x 10' space. Because of this it remains an easy to recommend display for small businesses.
The Pop Up Display was first introduced over 30 years ago as the first viable alternative to what were then heavy duty (and expensive) custom built exhibits constructed with plywood. During the 1980's there was one portable panel system after another designed to compete with the pop up ... all of those early designs are gone today. The durable Pop up remains popular, in our view, for (6) reasons. 1). It is truly portable in the sense that it can be set up by one person. 2). It ships via UPS. 3). It's compact enough to store in a closet and travel in a trunk. 4). Price... it offers more for the money than any other display on the market. 5). Graphics. A well designed portable pop up display still draws attention and, 6). With proper treatment, they last for years.
P.O.P. Exhibits Inc., founded in 1995, has been selling and providing exhibit rentals for many years. Our primary rental venues are in Anaheim, Los Angeles, San Francisco and Las Vegas in the west, Chicago, Denver and Dallas in the mid-west, and Boston, D.C., Atlanta and Orlando in the east. We specialize in custom exhibit design but also offer an impressive array of portable pop ups and modular displays. With our work at video game shows like PAXEast and E-3, we are helping to lead the way when it comes to large screen projection and interactive media, connected workstations and staging. Clients include Alaska Air, Amazon.com, Absolut Vodka, AOL, British Airways, Motorola, Pepsi and NASA.
P.O.P. Exhibits Inc. is refocusing attention on the venerable Portable Pop Up Display to meet an expected upswing in demand during the coming year. New businesses planning on exhibiting at trade shows need to start somewhere and, even after three decades, the pop up display is always a safe recommendation.