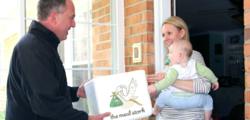 Washington, DC (PRWEB) September 29, 2012
TheMealStork.com was awarded the "Best of the Best" designation for excellence in the home meal delivery industry by Follow Media Consulting, Inc. The can be reached at 1-888-994-7401.
The timeless tradition of bringing over a meal to someone during a time of transition still exists but what if you no longer live near the person? The Meal Stork takes away the distance so even if a someone can't be there in person, it will feel like the gift-giver is there as they enjoy a Southern-style meal and read your heartfelt note. The Meal Stork specializes in meal gifts and gifts for new mom.
Named one of the best SEO Companies by Jonas Marketing, Follow Media Consulting, Inc. is a rapidly growing worldwide firm of SEO, Social Media, and Mobile Marketing Professionals. Follow Media Consulting, Inc. headquarters is located in Richmond, VA. However, our professional team is networked across the world, with regional offices across the United States, in the United Kingdom, Canada, Australia, France, South Africa, the Philippines, and India.
Follow Media Consulting, Inc.
4907 Fitzhugh Ave, Ste 203A
Richmond, VA 23230
800-909-7648