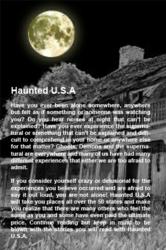 The haunted sites are categorized under all 50 states, to enable one to look at a location easily.
Fort Collins, CO (PRWEB) September 30, 2012
Aquetek Llc. Announces the Release of "US Haunted" App.
"US Haunted" an app developed for Android platform is to be released by Aquetek Llc.
Most people have experienced hearing strange sounds of which the origins could not be perceived when they are alone in certain locations. The same way, people feel that there are invisible beings moving around them when they are alone. Though these sound unrealistic, they really happen. However, most of those who have been in such situations are scared, even think, about those encounters as they attribute them to ghosts. "US Haunted" is an app that could be used with Android phones, which will allow people to find details of places where others have experienced this type of situations.
The application is available with Amazon and Goggle Play for anyone to download at $0.99. It must be remembered that it is a limited time offer. It will have dynamic content that is being input by users or developers real time. It is suitable for children as well as adults. It doesn't contain any adult content. However, it may contain cartoon violence and an occasional mild realistic violence. It may have reference to alcohol and tobacco. Also, there could be sexuality suggestive themes.
In this application there are hundreds of stories of haunted places and various experiences people have encountered in these locations. The spots where these experiences have been encountered are pinpointed to enable anyone to try visiting those places himself. It must be remembered that there have been occasions where people have lost their lives in some of their encounters with ghosts.
In case, a person has any experience with a ghost or a haunted location, he has the option to share his experience with others through this application. These experiences could be with demons, ghosts, and haunted houses or even with spirits. Still they may be useful for others using this application.
The haunted sites are categorized under all 50 states, to enable one to look at a location easily. When one clicks on a state, he will get all the haunted places found in that state. Locations where users of the application have found to be haunted are marked in a GPS map in order to help other users to find the places easily. US Haunted application locator, will enable Ghost Hunters to explore locations if they are inquisitive on knowing what ghosts and spirits are all about. In case, one has an interesting story, he has the opportunity to post it and stand a chance to win an award of $200. (you can download US Haunted here!)
Since the application contains the experiences of a cross section of American society, this application will be a very useful one for those who conduct research on this strange subject of ghosts, demons and other supernatural beings. However, one must not try exploring the subject if he is scared of them. If one doesn't believe in these creatures or if he knows how to handle situations with them, he is qualified to undertake doing research on the subject. Those who are not able to withstand the experience of encountering an instance where a supernatural power takes over a situation, he should not try exploring this subject.