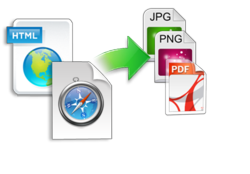 Convert HTML/web pages to image/PDF files on the go
(PRWEB) September 30, 2012
Today, Ondesoft developers announced the launch of their new software, the Ondesoft W3Capture for Mac.The software, which is available for download at their website, http://www.Ondesoft.com, allows the user to capture and save entire webpages as PDF files, straight to their Mac. And Ondesoft W3Capture doesn't just copy the text, it copies everything (text, pictures, formatting, etc) in order to create a PDF file that is a carbon copy of the original webpage.In other words, the PDF file will appear exactly the same as the webpage appears in the user's browser. Ondesoft W3Capture can also convert HTML to image formats of other file types, including:.PNG, .JPEG, .BMP, and .SVG. Also included in the Ondesoft W3Capture is a multi-threaded batch converter.This allows the user to convert multiple HTML webpages from different URLS in to one single PDF file. Simply to say Ondesoft W3Capture can convert web pages to PDF. It can also convert multiple webpages to separate PDF files at the same time.
As with their other products, developers said a huge focus was put on customization with W3Capture. Developers wanted to ensure that Ondesoft W3Capture for Mac could be used by novices and professionals alike. So, while a novice Mac user can simply boot up Ondesoft W3Capture and use the automatic, pre-configured settings, more experienced users have a plethora of options at their control. These customizable preferences include character encoding,width and height perimeters of the webpage,and whether or not to enable plug-ins, such as JavaScript, Java and Active X.Additionally, more advanced users not only can convert HTML to PDF,convert HTML to image, but also can set defaults for the final PDF files, including the addition of headers and footers, as well as setting page size limitations. Developers, therefore, are confident that Ondesoft W3Capture for Mac will provide a simple and intuitive experience, no matter the knowledge of the user.
Interested parties are encouraged to head over to http://www.Ondesoft.com and download the free-trial of Ondesoft W3Capture. Licensed copies are also available for purchase from their webpage.
Ondesoft, a company dedicated to creating easy-to-use Mac Apps, has been very active since its birth in 2011.They have produced critically acclaimed Mac Apps, including the Ondesoft iTunes Converter, the Ondesoft Audio Recorder, and the Ondesoft ClipBuddy App.The Ondesoft Audio Recorder, released in 2011, gives users the ability to record audio from any webpage (including YouTube, Vimeo, and GrooveShark), as well as any Mac App (such as Skype, iChat, Quicktime,etc). The Ondesoft iTunes Converter, released in 2012, allows users to strip DRM protected media of its inherent restrictions and put their digital media on device they like, without hassle.The Ondesoft ClipBuddy App, also released in 2012, delivers vast improvements to the Mac Clipboard and ensures that anything the user copies is saved permanently in a small database for later use.These Mac Apps, as well as the many others in the Ondesoftsoft Software Suite, are all available on their website:http://www.Ondesoft.com.