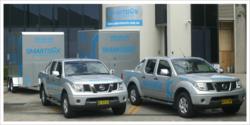 "We're thrilled to be supporting this great event and spreading the word about our innovative, mobile storage solution," says Jonelle Phillips, Smartbox Director
SYDNEY, AUSTRALIA (PRWEB) September 30, 2012
Smartbox, who offers Sydney, Melbourne and Auckland based customers a revolutionary and convenient on-site self storage option, will be exhibiting at the second-annual Grand Designs Live home improvement and interior design trade show in Sydney from October 5-7, 2012.
"We're thrilled to be supporting this great event and spreading the word about our innovative, mobile storage solution," says Jonelle Phillips, Smartbox Director. "This is a great way for us to help more people realize the benefits and convenience of our service."
Specifically, Smartbox's unique solution brings self storage to the customer by delivering a mobile storage unit directly to the customers chosen location. The customer then has 24 hours to pack their valuable items into the storage unit, which is then collected and stored in a secure Smartbox storage facility until the customer is ready to retrieve their items. The Smartbox solution is comparable in cost to traditional storage services and offers unit delivery and pick up seven days a week and free of charge (depending on the location). The solution differs from the more conventional storage process, where customers are responsible for packing up their items, moving them to a stationary storage unit and then unpacking them into the unit themselves.
"Smartbox is all about taking the hassle out of storing and moving items," Phillips continues. "When you're moving, renovating or doing something where you need to store items – you're already under enough stress. Let's face it – we've all been there before."
Smartbox secure storage facilities are also open to customers seven days a week, in case they need to retrieve any items from their unit. Discounts are also offered to long-term storage customers and those who purchase multiple units. The service is ideal for residential, business storage, renovation projects as well as for general moving purposes.
The Australia-based business recently made news when it opened a 2,000 square-meter storage warehouse in the Melbourne area, expanding its market base and storage capacity in Australia.
Says Phillips: "We're all about making the process easier, more convenient and more wide-ranging, which is why we're excited to introduce more people to our storage solution at Grand Designs Live in Sydney this October."
Attendees who stop by the Smartbox booth at Grand Designs Live will receive a special trade show offer for your future mobile self storage needs. This show is being held at the Sydney Convention & Exhibition Centre, Darling Harbor. For more information about the trade show and to purchase tickets, please visit http://www.granddesignslive.com.au.
For more information on the Smartbox mobile storage solution, visit http://www.smartbox2u.com.au.
About Smartbox
Smartbox, which offers a unique storage solution for both residential and commercial customers, serves the Sydney, Melbourne and Auckland areas. For more information, visit Smartbox's official website at http://www.smartbox2u.com.au or e-mail info(at)smartbox2u.com.au or contact Smartbox on 1300 880 800.
"Like" Smartbox on Facebook http://www.facebook.com/smartboxselfstorage and follow on Twitter @smartbox.