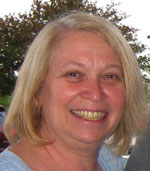 The loss of a child to cancer means the loss of an entire lifetime, the loss of a potential and promise that society can never regain.
Lincoln, Nebraska (PRWEB) September 30, 2012
Sarcoma Alliance President Joan Darling questions whether childhood sarcoma is as rare as people believe.
"It is possible that funding for sarcoma research and educational efforts will never be adequate unless advocates present numbers that truly reflect the impact of this disease on our society," she said today.
Sarcomas are cancers of bone, cartilage and soft tissue, such as muscle.They can occur anywhere in the body at any age, from newborn on up. For Childhood Cancer Awareness Month, Darling has been poring over government statistics. Her conclusions have just been posted at: http://sarcomaalliance.org/what-you-need-to-know/how-rare-is-sarcoma-really/
"Almost everything one reads about sarcomas emphasizes their rarity."
But, she says, people generally cite the risk of getting sarcoma in each year, as opposed to the risk over a person's lifetime -- because statistics on lifetime risks were hard to find until recently. As an example, she uses rhabdomyosarcoma, which arises in the striated, or voluntary, muscles. It's considered a childhood sarcoma because it's much more likely to occur in people younger than 20.
"When my daughter was diagnosed with rhabdo as a teenager, we were told that about 6 children in a million are diagnosed with this aggressive cancer," she says. "It's true that only about 400 children a year in the U.S. are diagnosed with rhabdo, and thus, the numbers are in the single digits in a million. But it is also true that one of every 330 children will get cancer by the age of 20, and that rhabdo is about 4 percent of childhood cancers. That means that about one of every 8,500 children will get rhabdo by the age of 20. And a handful of people will get it later in life."
Rhabdomyosarcoma sounds much less rare when someone says one of every 8,500 children will get it, as opposed to telling parents that the disease strikes only 6 children in a million, she notes.
Darling, a biologist in Lincoln, Neb., volunteers as a patient advocate with the Children's Oncology Group (COG), a cooperative group that designs and implements clinical trials for childhood cancers. She also co-manages the Rhabdo-Kids mailing list for the Association of Cancer Online Resources.
The statistic most often cited for adults with sarcoma is that they represent only 1 percent of all cancer cases each year, she says. But if you look at sarcoma over the span of a person's life, she says, about 1 million adults have been or will be diagnosed with the disease.
It's important to look at lifetime risks, she says, because people are diagnosed with sarcoma at an earlier age, on average, than more common cancers, such as breast and prostate cancer.
"The loss of a child to cancer means the loss of an entire lifetime, the loss of a potential and promise that society can never regain. Compare this to the nine years lost on average for prostate cancer, or the nineteen years for breast cancer.
"It's hard to find similar statistics for adult sarcomas as most adult cancer statistics are given by site of cancer and not by type of cancer." For example, an angiosarcoma that grows in a woman's breast may be counted as "breast cancer," instead of "angiosarcoma." But Darling says the statistics that are available indicate adult sarcomas tend to be diagnosed at an earlier age than most cancers.
"Sarcomas such as rhabdo are not like chicken pox or a broken leg," she says. "Many people live with their disease for years, being treated periodically with surgery or radiation. Those who have no evidence of disease live with the fear of recurrence. Many also deal with lifelong side effects from treatment."
The Sarcoma Alliance, a national nonprofit in Mill Valley, Calif., provides education, guidance and support for people affected by the disease. For more information, go to http://sarcomaalliance.org.