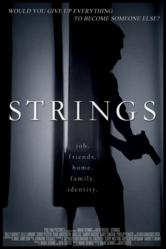 Strings will screen on Saturday, October 6th at 3pm at the Glenwood Arts Theatre.
Kansas City, MO (PRWEB) September 30, 2012
Strings, co-directed by Mark Dennis and Ben Foster, tells the story of a troubled musician who discovers his therapist is using patients to commit crimes. The film has been selected and screened in over a dozen film festivals and has collected awards including 'Best Feature Film' at the 2012 SOHO International Film Festival, Best Director at the 'Tulsa International Film Festival', Best Song at the 'Breckenridge Festival of Film'. Strings also had major screenings at the Austin and Hollywood Film Festivals.
The filmmakers, knowing that mob-style gangsters and train travel were uncommon in Central Texas, opted to add establishing shots to set the film on the East Coast. "When I was born, my dad had just completed school at the Kansas City Art Institute and now builds furniture and designs houses", Foster says. "The shots we added to the film probably had a lot do with architecture tastes that were instilled in me from my dad and a desire for some geographical accuracy in the story".
Chris Potter, who plays the role of 'Jimmy' in the film, is a singer, songwriter, and multi-instrumentalist who began his career in Lawrence, Kansas. Living just blocks away from beat writer/poet William S. Burroughs, and soaking up all the eclectic styles of area musicians, Potter eventually made his way to Kansas City where he continued his music career. Potter now lives in Austin, Texas as a musician and a skilled actor.
Strings will screen on Saturday, October 6th at 3pm at the Glenwood Arts Theatre.
Tickets can be purchased online by clicking HERE
Or at the box office: 9575 Metcalf Ave. Overland Park, KS. 913-642-4404

STRINGS tells the story of a down-on-his luck musician who is convinced by his therapist -- a man with motives of his own -- that the best option for his family is for him to completely disappear and start a new life with a new identity. The film stars Billy Harvey, Elle LaMont, Chris Potter, Karl Anderson, Jack Lee and Olivia Draguicevich.
ABOUT THE KANSAS INTERNATIONAL FILM FESTIVAL -
In its 12th year, The Kansas Int'l Film Fest attracts local, regional, and national work, recognizing visiting filmmakers and screen personalities, and increasing public awareness of independent and classic cinema as a cultural, economic, and educational asset.