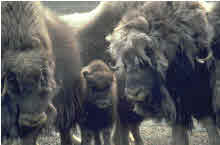 The pure Qiviuk yarn goes for about $90 for a 28 gram ball in boutique yarn stores made by Jacques Cartier
Spokane, WA (PRWEB) September 30, 2012
Remember that wool sweater your grandma knit you back in the 80's? Usually when you think of that sweater you think of maybe wool, cotton or acrylic fibers. This is not your grandmas knitting yarn and certainly not from a cute little sheep, something much more wild and hearty.
Imagine a land of untouched frozen tundra, rich with sun but cold as a witch's teat. Down in the valley near a wisp of fire-weed some majestic shadows stand motionless in the raging arctic wind. The subzero temperatures and extreme wind chill have little effect as large plumes of steam blast from long spiraled nostrils and sustained bellows erupt and fall.
These mighty beasts have been around since the age of saber tooth tigers, and are the only mammals to survive the ice age. Qiviut, also known as muskox, produces some of the warmest and softest luxury fiber on earth. With the recent resurgence of knitting Jacques Cartier has been producing this fiber into yarn in small batches for the craft market in addition to their Qiviut clothing lines under the name Qiviuk. The pure Qiviuk yarn goes for about $90 for a 28 gram ball. Crafters will knit up Qiviuk yarn into a small garment like a hat or lace scarf and often give it as a special gift during the holidays or sell them in high end boutiques. Since it's a lace weight yarn a little goes a long way when knitting.
The muskox fiber is typically combed out of the coat of the live beast with a special chute. They are rarely killed for fiber as they teeter on the endangered species list. There is a reserve in Palmer, AK that has helped to increase numbers and has a sizable fiber harvesting operation. With the live combing method of fiber harvesting it is less likely to find guard hairs in the fiber so it feels terrific and light on the skin. Qiviut fiber is one of the lightest and warmest fibers in the world and often used to treat burn victims to keep them warm with the least pressure on the skin as possible.
Knitting is more popular than ever and people are knitting with much more than just wool these days. At our shop we have Camel, Yak, Bamboo, Milk, Soy and even Vicuna yarn (which is a lot like a cross between an Alpaca and a deer) that goes for $300 a ball! We also sell equipment to blend all of these wild fibers together in our wool shop to create custom blends of yarn. There are more than 38 million people crafting with yarn as of 2012 according to the Craft Yarn Council estimates.
Paradise Fibers has been in business selling knitting yarn and spinning fiber since 1995. Paradise Fibers has a full featured wool shop with everything from spinning wheels to weaving looms and beyond. The company is family owned and operated and consists of a sprinkling of Romine family members, some amazingly dedicated fiber junkies and 1 boy aspiring to be a stunt man.
Contact:
Travis Romine – Fiber Wrangler
sales(at)paradisefibers(dot)net
http://www.paradisefibers.com
225 W Indiana
Spokane, WA 99205
(509) 536-7746