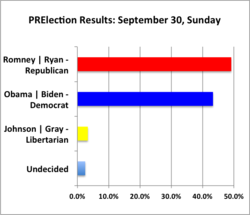 PRELection results for Sunday, Sep 30: Romney 49, Obama 44
Alpharetta, GA (PRWEB) September 30, 2012
The PRElection App results for Saturday September 29 show Romney 49 and Obama 44, with Johnson (Libertarian) 3. These percentages are unchanged for Romney, but show a two point increase for Obama.
PRElection is a free app available in the iTunes app store that allows voters to pre-vote for the candidate of their choice. This week PRElection is releasing an update that allows voting for all House and Senate races in addition to the Presidential race. Voters can see overall results for balance of power in the House and Senate, and individual results for each of the 468 congressional races this year.
PRElection allows candidates to establish their own PREview Candidate page and to provide a link for voters to Donate. Candidates can also send messages to voters through the app. Voter supplied demographics including registered and likely voters, age, education, geographic location, ethnicity and other categories are used to provide detailed analysis of PRElection results.
More information for voters and candidates is available on the PRElection App website: http://www.PRElectionApp.com.
PRElection is available in the App Store: Prelection App [http://itunes.apple.com/us/app/prelection/id559954385?Is=1&mt=8