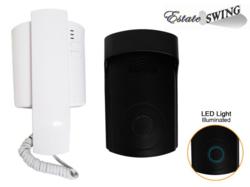 ...simple driveway gate to house communications
Odessa, FL (PRWEB) September 29, 2012
Earlier this week was the release of a simple, economical intercom by Estate Swing, a Florida based gate opener and access control brand. With the expansion of new technologies the price of intercom systems for gate openers has been increasing past the reach of many consumers. Estate Swing has sought to rein in this cost by releasing a no frills wired intercom for simple driveway gate to house communications.
The Estate Swing basic driveway gate to house intercom has the ability for an individual wishing to gain access to the property to call 1 or 2 base stations in the house. The home owner can then activate the gate opener to open the driveway gate from inside the house. Joel Dimeo, Chief Technical Manager of Gate Crafters, states, "We have the options for cellular access, land line access, wireless access, and other high tech options. However what seems to have been forgotten is the basics and that is what this system is."
The release has been limited to an online offering. Full distribution will begin in the spring of 2013. Online distributors include Amazon.com, GateCrafters.com and Sears.com. The online release is designed to build the expected high levels of feedback that will come to support the intercom's full distribution.
The internal intercom is designed to be connected through 16 gauge with both the outdoor weatherproof station and the gate opener.
For additional information on distribution of the Estate Swing intercom, contact David Rivera at Estate Swing, a brand of Sequoia Brands, Inc. For retail purchase visit http://www.gatecrafters.com, http://www.amazon.com or http://www.sears.com.
About Sequoia Brands, inc:
Sequoia Brands, inc. is a Florida corporation that owns and manages multiple specialty brands including Estate Swing gate automation and access control equipment.