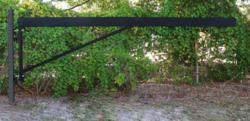 Tampa, FL (PRWEB) September 30, 2012
GateCrafters.com is a Florida based manufacturer and retail of driveway gates and gate openers. To better serve the needs of some commercial and government customers they have begun producing forestry gates.
A forestry gate is a gate designed to prevent vehicle access. Commonly seen in parks, parking lots, industrial facilities, and other locations with vehicle access; forestry gates had beginning s in the national state, and local parks systems. The forestry gates built by Gate Crafters are manufactured from 6061-T6 aluminum; the same material as their decorative driveway gates and Estate Swing gates.
Gate Crafters also specializes in automation with gate openers and the forestry gates are no exception. The choice of the aluminum and mounting design lends itself to be automatable by Apollo gate openers, Estate Swing gate openers, US Automatic gate openers and others. Solar gate openers, which all the listed above listed brands specialize in, are uniquely suited to operate most installations of forestry gates.
Lucas Carlaw, Manager of Gate Crafters gate department, describes, "We have always been about responding to our customers. We had a few customers ask if we make this product and our natural instinct to assist kicked in. We now have forestry gates. It also helps that our production is done in our Florida location, it keeps us nimble and adaptable.."
For additional information on purchase of a Gate Crafters forestry gate, contact Lucas Carlaw at GateCrafters.com, a division of WebDirectBrands, Inc, of visit http://www.gatecrafters.com.
About Web Direct Brands, inc:
Gate Crafters is a division of Web Direct Brands, Inc., a Florida corporation that owns and manages multiple specialty websites based on in depth end user product knowledge and usage.
Contact:
Matthew Raab
Gate Crafters, product development
813-920-7259
http://www.gatecrafters.com
###