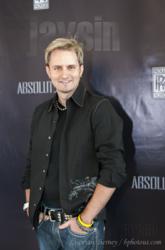 "I believe the true test of a singer is how you sound live…no tricks, no effects, just talent." - Jaysin Voxx
Los Angeles, CA (PRWEB) September 29, 2012
Emerging Pop with Soul Artist Jaysin Voxx, is building energy for 2013 by launching a new website, Facebook page and Twitter account; all in anticipation of his upcoming album as he is debuting a new single "Cause Everytime" in late November 2012.
"Cause Everytime" written by JAYSIN and produced by two-time Grammy Nominee Kenny "Kynne" Smith, is the first single by JAYSIN released ahead of his upcoming album and can be heard on YouTube. JAYSIN is diligently working in the studio to finish his album slated for release the beginning of next year.
JAYSIN's recent string of performances and appearances is helping him gear up for a strong start to 2013. He is appearing at several charities including Fashion Destination Group's Sail in Style benefiting the Guard A Heart Foundation (http://www.GuardAHeart.org) a nonprofit dedicated to bringing heart disease prevention and awareness to the forefront as well as High Society's charity event at Mozambique in Laguna Beach benefiting Let It Flow (http://www.letitflow.org) an organization that helps provide clean water facilities to thousands of people in Ethiopia.
JAYSIN began singing at age 6 in his church and schools, and since then, singing, performing, and songwriting have been his passion. Growing up in the Bay Area exposed him to the edgier side of R&B and rap, which shows through in his writing, stage presence and energy-filled performances. Now residing in Los Angeles, JAYSIN has performed at some of the hottest clubs in Hollywood, in front of audiences of 20,000+, as well as private industry parties.
In addition to his strong vocal abilities, he does his own back vocals, stacks and creates intricate harmonies and arranges his songs. Word of his talent as a musician, and his gift for clever lyrics and provocative hooks has already led him to work with many talented and respected industry people and earned him the honor of being voted TOP 25 ARTIST by Music Connection Magazine! News of his growing success has also inspired a documentary about JAYSIN, more magazine features and Music Connection Magazine continues to follow him. JAYSIN's song "MY SHOW" was chosen for the Pony International Compilation "On Tha Loose" and he teamed up with Konvict Muzik Group to collaborate on the well-received single, "GODDY BODY."
His influences vary widely from old school funk and R&B icons such as George Clinton, Roger & the Zapp Band to Maroon 5, Jodeci, and Hi-Five. His style is akin to George Michael, Chris Brown, R. Kelly, and Bruno Marz – all amazing performers.
A hardcore performer, JAYSIN is building a loyal fan base by infusing the rawness of hip-hop with the universal appeal of pop with soul to create something that is not only marketable, but truly unique and transcends genres. JAYSIN's sound and ability to write songs with chart-topping power, along with his image and exciting shows, guarantees he will be making more headlines.
For more information, visit http://www.JaysinVoxx.com.
Like his fan page at: http://www.facebook.com/JAYSINMUSIC and follow JAYSIN on Twitter at @JaysinVoxx
For media, interviews and booking appearances please contact: Kelly Bennett, Bennett Productions Unlimited, LLC (949) 463-6383 or at Kelly(at)BPUnlimited(dot)com
JAYSIN is now considering Distribution & Label interest.