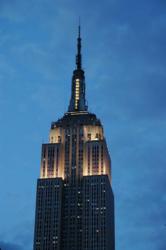 LandlordTenantNewYork.com is intended to make the New York eviction process much easier and less expensive.
New York, New York (PRWEB) September 30, 2012
As America's economic crisis persists, landlords continue to face increased financial pressures as a result of tenants who fail to pay rent or who refuse to vacate their apartments at the end of a lease term. In these situations, many landlords face a catch 22: they can delay legal action, while their losses increase with each day, or dish out thousands of dollars for legal fees. Now, there is a third, far more pallatable option for New York landlords: a newly-launched New York eviction forms website that has dozens of New York eviction notices, petitions, and related NY forms in MSWord format for download.
This week, Empire State Legal Forms, Inc., a legal forms provider based in New York City, launched a website, LandlordTenantNewYork.com, that is intended to make the New York eviction process much easier and less expensive . According to Empire State Legal Forms' President, Marc Rapaport, the new site is intended to provide both lawyers and landlords with "a full array of New York landlord tenant forms that are easy to use, yet which satisfy the exacting requirements placed upon landlords by New York's Real Property Law."
The site offers holdover and nonpayment eviction forms for all New York counties, including a special section of eviction forms for use specifically in New York City's Civil Court. There are forms for both residential and commercial evictions.
According to Rapaport, the newly-launched site is the product of several years of planning, and the efforts of experienced landlord tenant lawyers at Rapaport's New York City landlord-tenant law firm, Rapaport Law Firm, PLLC.
According to Rapaport, there is no magic pill that will completely eliminate the stress and expense that landlords endure when tenants fail to abide by their contractual and legal obligations. However, the amount of time and expense associated with New York evictions should markedly decrease with the wider availability of user-friendly New York eviction forms for download.
Rapaport's company has been a pioneer in the online legal forms industry. In 1999, Empire State Legal Forms, Inc. developed one of the nation's first do it yourself divorce websites, a model that has since changed the face of divorce throughout the United States. Empire State Legal Forms also maintains websites that provide QDRO Forms, Lease Forms, marital agreements, corporate forms, and name change forms. According to Rapaport,his companies sites share one common feature: they offer legal forms that reflect the latest legal developments, and which are easy to use. Today, Empire State Legal Forms, Inc. has grown into a nationwide legal forms provider, with 150 websites providing thousands of different legal forms for download.