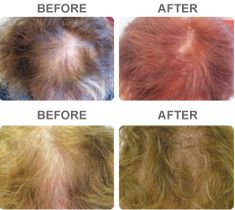 We believe we have put together the most comprehensive effective hair loss solution on the market
(PRWEB) September 30, 2012
One of the holy grails of beauty is a beautiful head of hair. Everyone has it when they are young, but most of us lose it as we get older. Its our crowning glory. Hair loss affects men and women alike. There are a variety of causes for hair loss; genetics, stress, cancer drugs, and changing hormones for men and women. Treatments for hair loss are as old as mankind itself.
Today there are finally FDA approved devices for hair loss. Cold laser therapy, the use of lasers at approximately 650 nanometers, grow hair through biostimulation. However its not just that simple. The FDA has approved a few devices for this. FDA studies, although designed to protect us with very high standards, including double blind and placebo controlled studies, could mean someone spent a lot of money and counted just a few more hairs under a microscope than with placebo. Any changes including improvements would actually be subject to the same vigorous standards as the original testing. Also people are looking for cosmetic results, big results, that can be seen. There are a plethora of devices being sold on the internet accompanied by an equal number of claims.
Precision Aesthetic's Manager John Aslanian reports that over a year of research has gone into studying dozens of devices ranging from large in office devices that cost more than a luxury car, to laser combs selling for a mere few hundred dollars. In addition Dr Zdinak, medical director, has also studied various combinations of essential vitamins and supplements, various shampoos, conditioner and lotions designed to enhance results as well. We wanted to design the ultimate protocol. Aslanian continued "No one wants to spend ½ hour 2x a week for up to a full year and get only marginal results, when they could have opted for a comprehensive program custom designed for them and gotten much more cosmetically satisfying results."
The launch date will be early October and limited to the first 40 people, because of the time constraints of twice a week 30 minute in office treatment, which is a vital part of the complete program. In addition, equally important are new supplements that are backed by proven clinical research that improve not only a variety of parameters of hair quality like tensile strength, shine and improve hair pull tests, but will have the side effect of improving wrinkles as well. "We believe we have put together the most comprehensive effective hair loss protocol on the market," commented John Aslanian Director Manager of Precision Aesthetics. He went on to say, "Studies with the laser alone have demonstrated, 100% of men and women stabilizing hair loss with the majority having regrown hair in frontal and vertex area. We are expecting even better results with the addition of our exclusive supplements, shampoos, conditioners and choosing the right at home devices to complement our in office treatment."
Precision Aesthetics is a leader in noninvasive cosmetic solutions. Located at 10 West 74th st Precision Aesthetics specializes in unique non invasive solutions like Carboxytherapy, Mesotherapy, Silkpeel, Acoustic Wave, Exilis, Dermaroller and is New York's only Thermage Black Diamond and Pinnacle Award Winner. Lisa A Zdinak, MD, medical director was recently featured on CBS for her work with PRP or whats commonly known as the Vampire Face Lift or growth factor fillers.