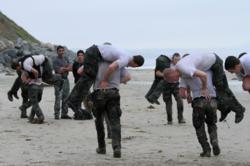 Encinitas, CA (PRWEB) September 30, 2012
A group of 2012 CrossFit Games Winners have decided to take their training to the next level by participating in this month's Unbeatable Mind Kokoro Camp. The world's premier training camp for forging mental toughness and the "Warrior Spirit", Kokoro Camps are an intense crucible experience based off of the famous Navy SEAL Hell Week concept. Like CrossFit, lessons learned at Camp are life lessons that create a new, unbeatable, state of mind and a new way of orienting oneself in the world. In San Diego, California's backyard at and in the surrounding areas of the SEALFIT/CrossFit Encinitas campus, Kokoro Camps are intensified, hands-on learning for 50 hours over the course of a weekend.
Camps are run by retired Navy Seal, entrepreneur, and Coach, Mark Divine. Divine released his Unbeatable Mind Academy in October of 2011, which utilizes an integrated warrior development model, drawing from his 20 years as a SEAL and business leader, 25 years as a martial artist, and 15 years as yoga practitioner. The Unbeatable Mind KOKORO camp is a condensed version of his academy with a MUCH heavier emphasis on the physical aspects. SEALFIT's Unbeatable Mind is uniquely effective at elevating clients to a higher level of operating, thinking and leading – encompassing the full spectrum of human experience – Body, Mind and Spirit in Self, Team and Organization.
Please join us for coverage of our final 2012 Summer Kokoro Camp:
WHY: This month's camp will be packed with 2012 CrossFit Games winners including:Hacks Pack UTE (CrossFit Games 2012 Winning Team), and two of the Women's Finalists - Valerie Voboril and Lindsey Valenzuela - both finishing #5 in the games.
WHEN: October 19 thru October 21, 2012
WHERE: SEALFIT Encinitas (849 Second Street, Encinitas, CA 92024)
WHAT: Our Unbeatable Mind Kokoro Camp mission is to develop mental toughness and promote your warrior spirit growth in this one of a kind training. Leadership, Building Elite Teams, Self Mastery, Character and Kokoro (unconquerable spirit) are trained and tested through 50 hours of intense physical and internal work.
WHO: Originally designed for Special Operations candidates, Kokoro is open to all who are willing to prepare and step up to the challenge. Students come from all walks of life, and include professionals, all US SOF and military candidates, many foreigners and CrossFit athletes and a few tough Moms.
RSVP: DUE TO THE SERIOUS NATURE OF KOKORO TRAINING AND THE INTENSE EVENT SCHEDULE, MEDIA RSVP FOR ON-SITE COVERAGE IS REQUESTED via email to tiffany(at)deliciousbuzz(dot)com.
SEALFIT/Mark Divine: Divine's book, 8 Weeks to SEALFIT, SEAL training Kokoro Camps, and an online program called Unbeatable Mind (catering to mental toughness), are all essential programs that train individuals to become Warriors. Visit http://www.sealfit.com/ for additional training and Unbeatable Mind Kokoro Camp information. The Unbeatable Mind Academy training is meant for anyone that desires to take their mental toughness to the next level. Unbeatable Mind already has a huge following and hasn't yet been mass marketed to the United States. The 12 month online program, taken remotely anywhere in the world, teaches the inner secrets of Navy SEAL Mental Toughness and develops a Warrior Offensive Mind-set. For Unbeatable Mind Academy training information visit http://www.unbeatablemind.com/.
Press Inquiries? Contact Tiffany Melone at (858) 224-2460 or tiffany(at)deliciousbuzz(dot)com.