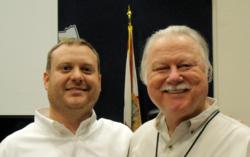 Palm Coast, FL (PRWEB) September 30, 2012
Held in Palm Coast by American Foreign Academic Research (A.F.A.R.) and The Archaeological Institute of America, and sponsored by Davidson Day School in Davidson, North Carolina, Maya at the Playa raises money for A.F.A.R's program that takes High School students to Belize during the summer to learn about archaeology while working at an actual archaeological site.
While teaching high school history at Flagler Palm Coast High School, Mat Saunders dreamed of teaching archaeology to high school students. As the idea developed, Saunders came up with a plan where his students would attend a school in Belize to learn how field archaeology is done. Part of this plan involved inviting leading archaeologists to come to Palm Coast to speak to his students. The decision to sell tickets to the public to raise funds created the Maya at the Playa conference. Now six years later, the conference was attended by over 120 people looking forward to hearing about recent work done by the 20 archaeologists who come from all over the United States, Central America and as far away as Australia.
The conference has helped AFAR take over 160 students to Belize in its six year history. During the summer of 2012, the program was expanded from two weeks to two two-week sessions. The students work at the site of Cahal Pech for the Belize Valley Archaeological Reconnaissance Project and the Belize Institute of Archaeology. A group of 28 students from Texas, Iowa, Kentucky, California and Davidson Day School, where Mat Saunders now teaches, made up this year's team.
This year's conference brought together many scholars connected to the Peabody Museum of Archaeology and Anthropology's Corpus of Maya Hieroglyphic Inscriptions. The Maya at the Playa Lifetime Achievement Award was given to Ian Graham and the Corpus of Maya Hieroglyphic Inscriptions. So, many of the presenters had worked with Ian and the Corpus including Peter Mathews, Barbara Fash, David Stuart, Norman Hammond, George Stuart and William Fash.
Jim O'Kon has been a regular attendee of the conference and has met many eminent archaeologists whose work contributed to his book The Lost Secrets of Maya Technology. It was at one of Mat's conferences that Jim asked regular presenters Mark van Stone, artist and epigrapher, and George Stuart, retired staff archaeologist for the National Geographic, to review his book.
For more information on Maya at the Playa visit http://www.MayaatthePlaya.com and A.F.A.R. at http://www.goafar.org/AFAR/HOME.html.