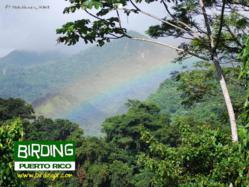 Portal, AZ (PRWEB) September 30, 2012
Naturalist Journeys owner Peg Abbott was inspired to offer Puerto Rico through the friendship of two professional biologists living in Portal, the company's base of operations. Retired US Fish and Wildlife biologists Helen and Noel Snyder are recognized as world experts on parrots, and one of their early projects was to research the habits of Puerto Rican Parrots, now critically endangered*. Abbott remembers Helen's lively descriptions of their mountain-top research cabin, the evocative sounds of the forest, and as a veteran biologist of work in often-dangerous places, how nice it was to be in rainforest where there were no poisonous snakes – few if any uncomfortable creatures to contend with. The lush and wet rainforest of northeastern Puerto Rico's Luquillo Mountains still remain one of the parrot's last strongholds. Abbott and company hope to see them in their wild mountain realm this January.
Peg Abbott's lingering fascination with Puerto Rico came to fruition through teamwork with an island-based operator selected to operate the tour. She chose Adventours – Birding Puerto Rico, based on their twenty years of experience with a strong commitment to conservation and ecotourism. Owned by the lead-guide, Hilda Morales Nieves, the Puerto-Rican company is a fully-licensed tour operator with Certified guides/drivers by the government and with all necessary permits and endorsements to offer services, including night owling at El Yunque National Forest. Puerto Rican Screech Owls, target species of these night outings, were researched by the Snyders' colleague and co-author of the parrot book, Jim Wiley, who went on to do a lot of Caribbean conservation and research work in Cuba.
Naturalist Journeys' January 3-11, 2013 tour will focus on birding and nature, visiting rainforests, tropical dry forests, wetlands, salt flats, agricultural areas and beaches. A group of twelve travelers, accompanied by Abbott and Nieves, will visit the 28,000 acre El Yunque National Forest, Laguna Cartagena National Wildlife Refuge, Maricao State Forest and the Guanica Forest Reserve. Adventure opportunities include night outings, hiking and a chance to sea-kayak.
The tour begins and ends in San Juan, Puerto Rico, which is serviced by most major airlines. Full details can be found on their website.
*Read more about Puerto Rican Rainforest Adventures and research in The Parrots of Luquillo: Natural History and Conservation of the Puerto Rican Parrot by Noel F.R. Snyder, James W. Wiley & Cameron B. Kepler. Western Foundation of Vertebrate Zoology, 1987.