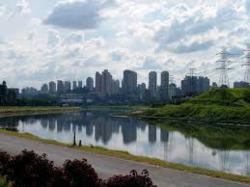 Infrastructure is the combination of fundamental systems that support a community, region, or country. It includes everything from water and sewer systems to road and rail networks to the national power and natural gas grids.
Washington DC (PRWEB) September 30, 2012
The Security and Sustainability Forum announces the third session in the Urbanization series, "Growing Urban Infrastructure with a Shrinking Footprint" will take place on October 11. Highlighting infrastructure challenges due to current emissions-intensive and inequitable systems and the added pressure of a growing population, the session will cover a range of academic thought and development practices. Experts will offer a broad picture of urban infrastructure issues applicable to both ends of the development spectrum. From natural resource throughput implications to shifting thought to reduce the carbon footprint of transportation, the discussion will cover a range of policy challenges. In addition to outlining the challenges, "Growing Urban Infrastructure with a Shrinking Footprint" will showcase existing work in this field and present overarching research questions on the effects of climate change that are of particular concern to cities and urban infrastructure.
Attend the webinar, October 11 from 1:15-2:45 EDT, to learn from:

Dr. Rodolfo Camacho, Abt Associates' Vice President of International Economic Growth, leads the division's Climate-Smart Development practice and business development unit, and has more than 25 years of experience working on environmental protection, water resources, and climate change
Dr. Eugenie Birch, Co-Director of the Penn Institute for Urban Research, increasing the understanding of cities through cross-disciplinary research, instruction, and civic engagement; discuss trends in urbanization, sustainability and urban design
Dr. Gerald Stedge, Abt Associates' Natural Resource Economist, brings knowledge about watershed and agricultural economics, as well as experience modeling the economic and environmental impacts of policy making
Arturo Ardila-Gomez and Georges Darido, World Bank Transportation Specialists, will discuss transportation policy objectives for reduced carbon foot prints and resilience to climate impacts, the challenges faced, and examples of success
About the Security and Sustainability Forum
SSF is a public interest, membership organization that hosts free, live educational webinars. Sessions feature panels of global experts who address human health and welfare impacts caused by climate change and other environmental disruptions. The webinars outline how sustainable approaches to minimize environmental stresses can reduce instability and conflicts, thereby improving the physical and economic security of humankind. Our programs seek to not only educate our audience about sustainability and how it fits into their areas of interest and work, but also spark new ideas about resilient approaches and solutions.
Access to SSF's webinar archive is offered through a free membership program.