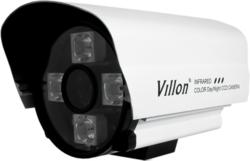 Villon CCTV Camera Samples, Buy 1 Get 1 Free!
(PRWEB) September 30, 2012
From Oct.1 , 2012, Villon will offer Free CCTV Camera Samples to All Customers. According to Villon Technology, any customer who buys a sample of Double IR-Cut CMOS HD Camera from Villon, can get 1 free sample of other CMOS HD IR-Cut CCTV Camera model. Now, Villon Technology has carefully prepared a number of samples. Double IR-Cut CMOS HD Cameras from Villon Technology Samples has been available now.
"We are promoting CMOS HD CCTV Camera to all customers, especially some wholesalers in the world. Over the past few years, CMOS did not get the actual scale application because of its poor quality in resolution, noise, and image quality, compared with CCD. But recently, with the rapid development of CMOS process technology, it has been possible to produce high-quality and low-cost CMOS imaging device, which can actually be put into mass production. The CMOS imaging device has affected the image sensor selection in the CCTV security industry with its characteristics of high-speed, highly integrated, low-power and low-cost. As a result, the position monopolized by CCD has started to shake." said, James Way.
James Way stated, "Double IR-Cut Cameras, are new products in the CCTV industry, and it may be the trends of 2012 and 2013. Villon is strong at CCTV security system equipments' OEM and ODM, especially at IR-Cut CTV Cameras. Villon's motor-type Double IR-CUTs Camera, with Independent intellectual property rights, is the most advanced and stable IR-CUT equipment."
For the effects of Villon Double IR-Cut CMOS 600-TVL Cameras, please visit:http://www.villoncctv.com/about/
"Shenzhen is the most important base of China security industry, but also the most important production base in the global security industry. We have a great product line that we feel is the best in the industry. Also, we also have a money back guarantee, which provides customers a risk free way of trying out any of our amazing product lines." Continued Mr. Way.
About Villon Industry
Founded in 2005, Shenzhen Villon Technology Co., Ltd. is a CCTV security technology company with the eligibility of production, installation and maintenance of security products, approved by the Guangdong Province Public Security Bureau. Villon CCTV surveillance products, especially its Villon Double IR-Cut CMOS 600-TVL Cameras, are proudly used by several well-known domestic and foreign security companies. For more info about IR-Cut CCTV Cameras, please visit: http://www.villoncctv.com/