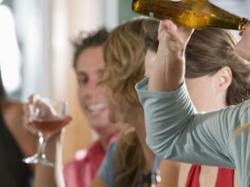 One of the biggest mistakes made by students is eating fatty, carb-based meals on the way home after a night-out as it soaks up the alcohol.
(PRWEB UK) 30 September 2012
When you think about student life, this is what generally springs to mind: partying till the early hours, copious amounts of alcohol, sleeping all day and take-outs.
Besides the obvious reasons of getting a better education and increasing your job prospects, the main reason why people choose to go to University is to meet new people and make friends. This shows just how important the social side of student life can be.
However, more often that not, this student lifestyle has an adverse impact upon your fitness and health. Fortunately for this year's freshers, Differ Diets have outlined their top 5 ways to stay fit and healthy whilst being a student, especially in the first few weeks:
1. Choose your alcohol wisely
Certain types of alcohol are far better for you than others. If you are on the pints, try and choose a lighter version of beer. For those who prefer spirits, try and go for diet mixers. The difference between full-sugar and diet can be as much as 150 calories per drink!
2. Prepare your dinners early including as much protein, vegetables and good fats as possible.
If you don't fancy cooking then have a look through "The No Cooking Diet" on Amazon. This ebook offers ideas and examples of supermarket meals that can be easily and quickly prepared. If you do fancy cooking, try making some chargrilled chicken with a mixed salad and brown rice.
3. Exercise
There are so many different sports and activities that universities offer to help you keep fit. But joining your university sports team is not the only way to burn off those extra calories. Dancing on a night-out can burn up to 500 calories and having (safe) sex can burn up to 300 calories a go!
4. Know what you are eating after a night out
One of the biggest mistakes made by students is eating fatty, carb-based meals on the way home after a night-out as it "soaks up the alcohol." This is just not true. Try and prepare a meal for yourself in advance which you can have when you get back home. Make sure that it includes some good carbohydrates, plenty of protein, good fats and fibre. Our suggestion: a homemade chicken sandwich with salad, avocadoes and bacon.
5. Drink plenty of water
Water is a must for your body when you start drinking alcohol. Aim to drink at least as much water as alcohol. Make sure you keep track of what you drink, so that once you get home, you are able to match it with the same amount of water.
By following these tips and drinking in moderation, you shouldn't have a hangover. But just in case that you do, the best breakfast to sort out your hangover is a healthy one. Try a bowl of porridge with chia seeds and plenty of fruit.
Differ Diets offers tailored diets for students, taking into account all of your needs, allowing you to work hard, play hard and eat well.